A PICTORIAL GUIDE ON HOW TO MAKE AN UGLY CHRISTMAS SWEATER IN AN HOUR – DIY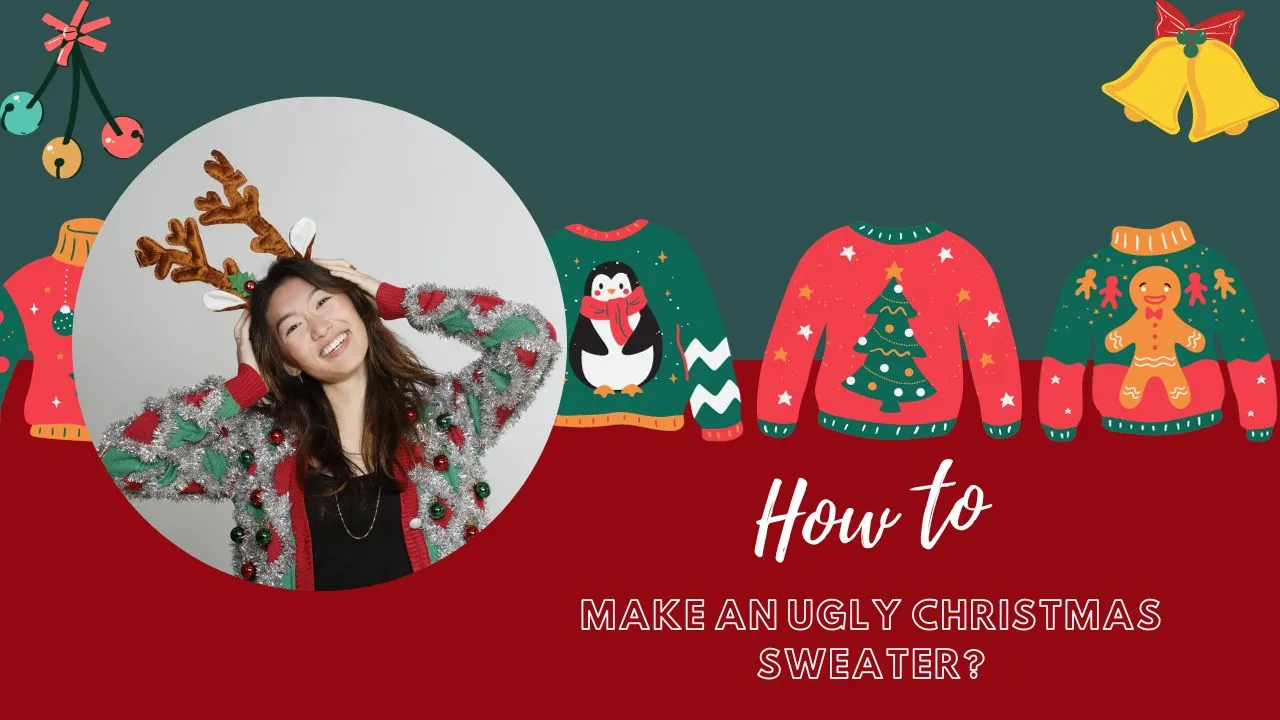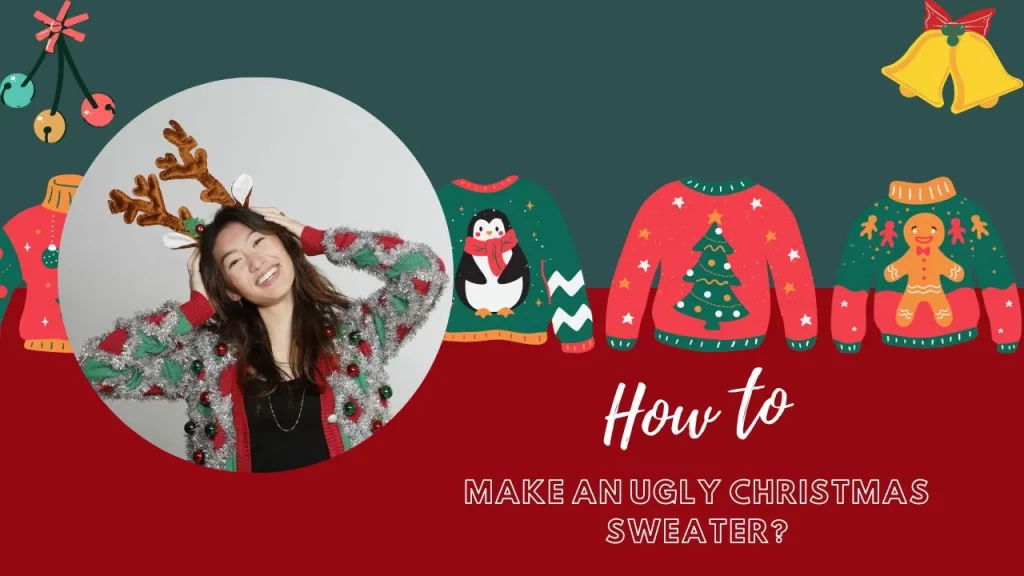 Get ready to unleash your inner creativity and festive spirit with our Pictorial Guide on How to Make an Ugly Christmas Sweater in an Hour!
As the holiday season approaches, there's no better way to stand out at holiday gatherings than with a quirky, one-of-a-kind ugly Christmas sweater that you've crafted yourself. Whether you're a seasoned DIY enthusiast or a crafting novice, this guide will walk you through the process of transforming a plain sweater into a garish masterpiece that's sure to spread holiday cheer and laughter. So, gather your supplies, put on your favorite holiday tunes, and let's embark on a fun and festive crafting adventure!
Creating an ugly Christmas sweater is a fun and creative project that allows you to embrace the holiday spirit with a humorous twist. Here are step-by-step instructions to make your own ugly Christmas sweater:
DIY Ugly Christmas Sweater – Step By Step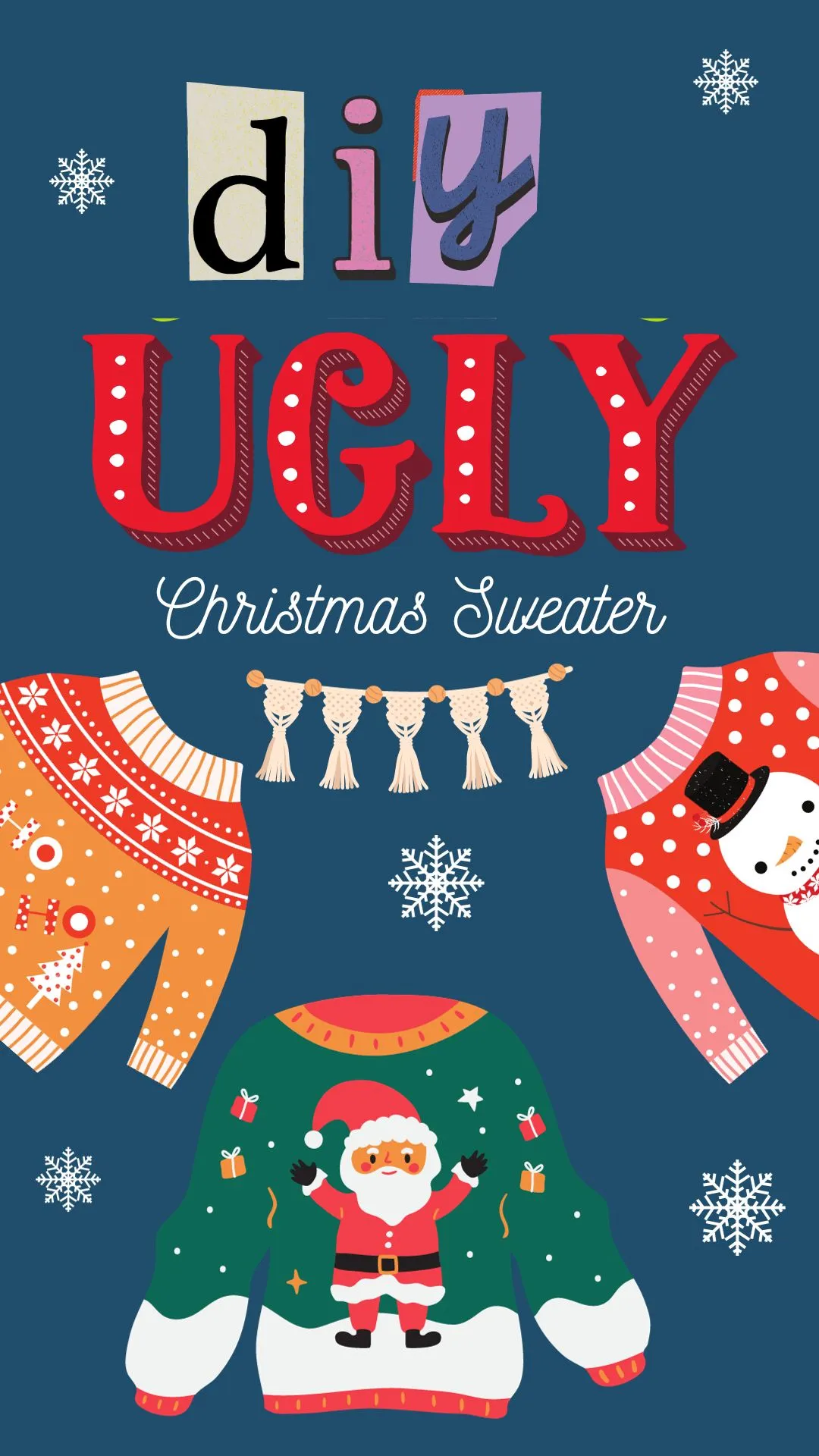 I'm absolutely thrilled with how my DIY ugly Christmas sweater turned out! It's a delightful mishmash of holiday chaos, featuring a goofy reindeer with oversized googly eyes, a Santa hat that's almost too big for the sweater, and an avalanche of sequins, bells, and even some battery-operated twinkle lights. Creating this comical masterpiece was an absolute blast, and I can't wait to wear it to the upcoming family gathering.
It's guaranteed to bring laughter and smiles to the festivities, and I couldn't be happier with the way my unique creation captures the playful spirit of the season. Ugly Christmas sweaters are a tradition unlike any other, and I'm proud to have crafted one that's truly one-of-a-kind!
Now I'll tell you steps to make An ugly Christmas sweater this year within an hour.
How to make an ugly Christmas sweater – Materials You'll Need
Step 1: Choose Your Theme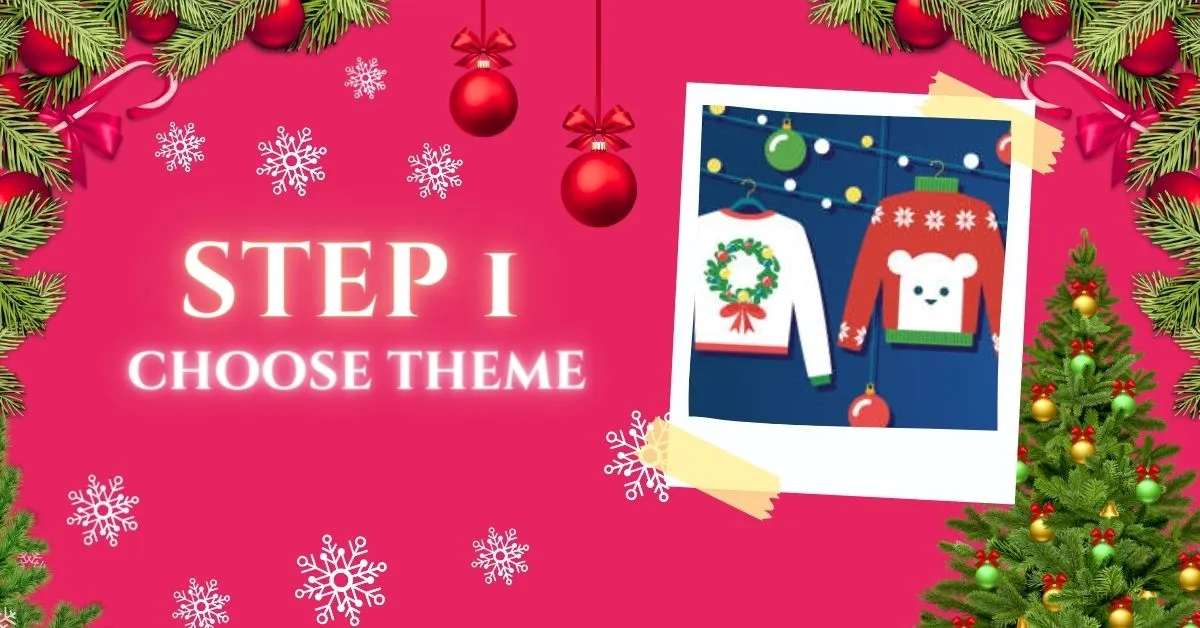 Decide on the theme for your ugly sweater. Popular themes include Santa Claus, reindeer, snowmen, Christmas trees, or even a mishmash of all things holiday-related.
Step 2: Plan Your Design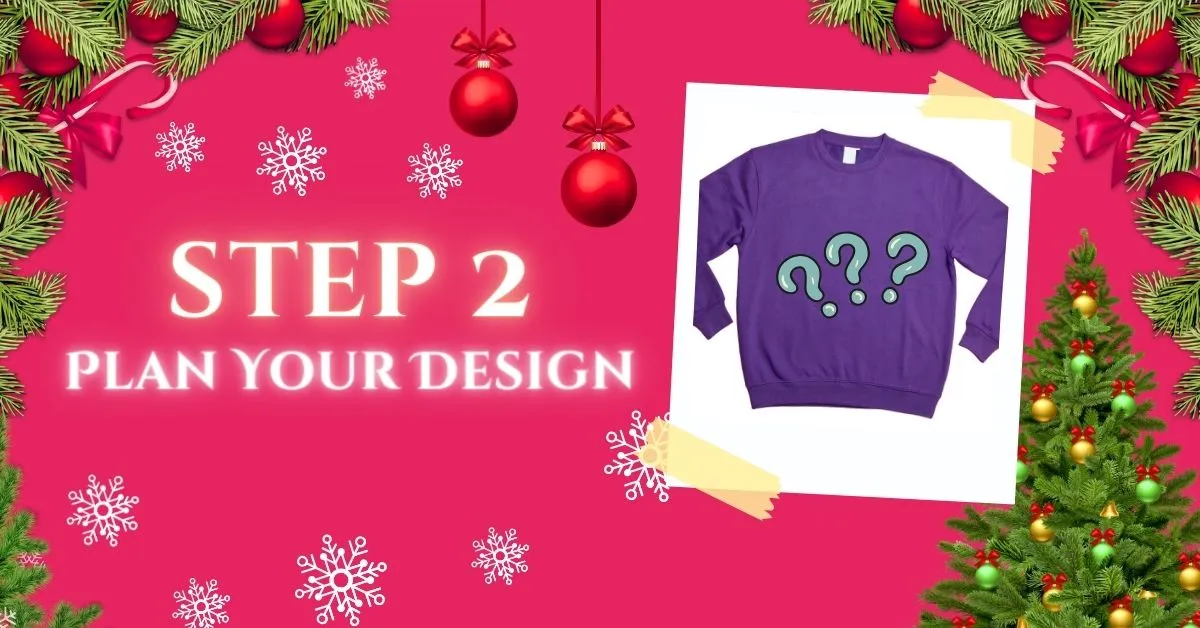 Sketch out a rough design or layout for your sweater. This will help you visualize where you want to place each decoration.
Step 3: Attach Decorations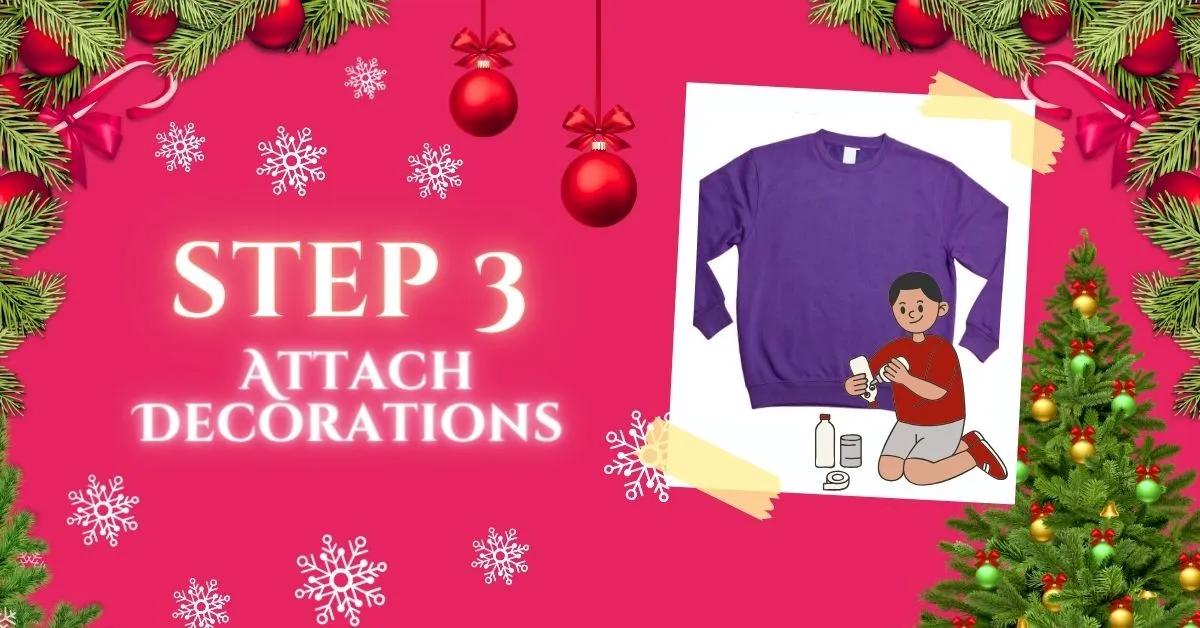 Using a glue gun, attach your chosen decorations to the sweater according to your design. Be creative and go overboard with ornaments, tinsel, bows, and any other holiday-themed items you have. Overlapping and asymmetry often make for the ugliest sweaters!
Step 4: Add Text or Paint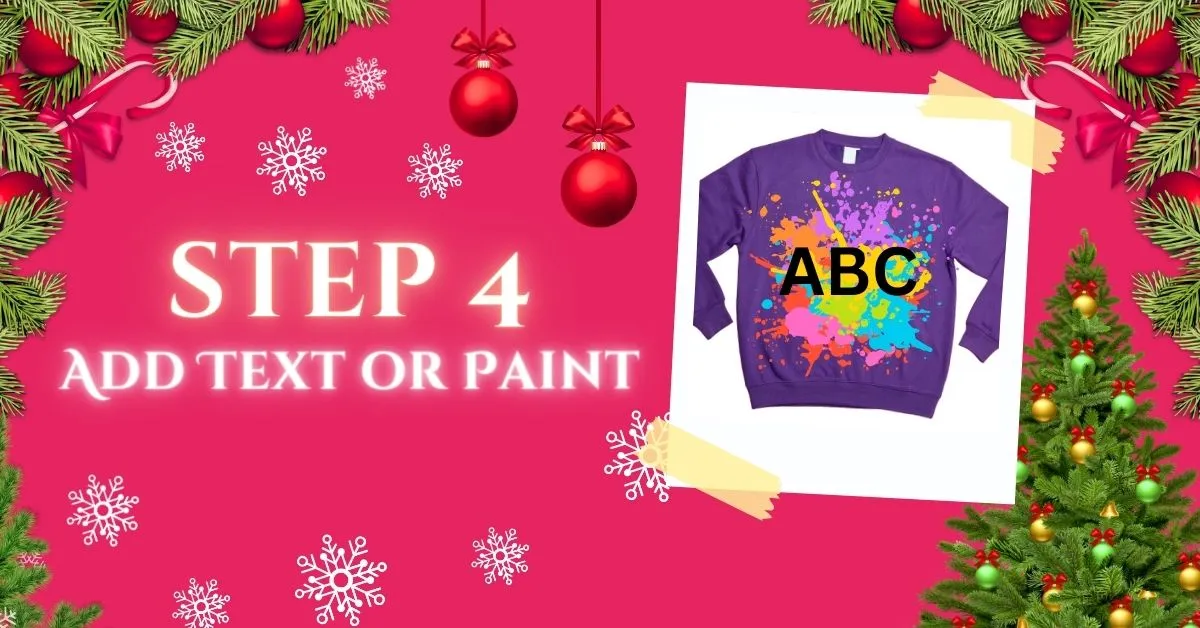 Write humorous phrases, puns, or festive sayings on your sweater using fabric markers or paints. Common phrases include "Ugly Christmas Sweater," "Jingle All the Way," or "Bah Humbug!"
Step 5: Incorporate Patches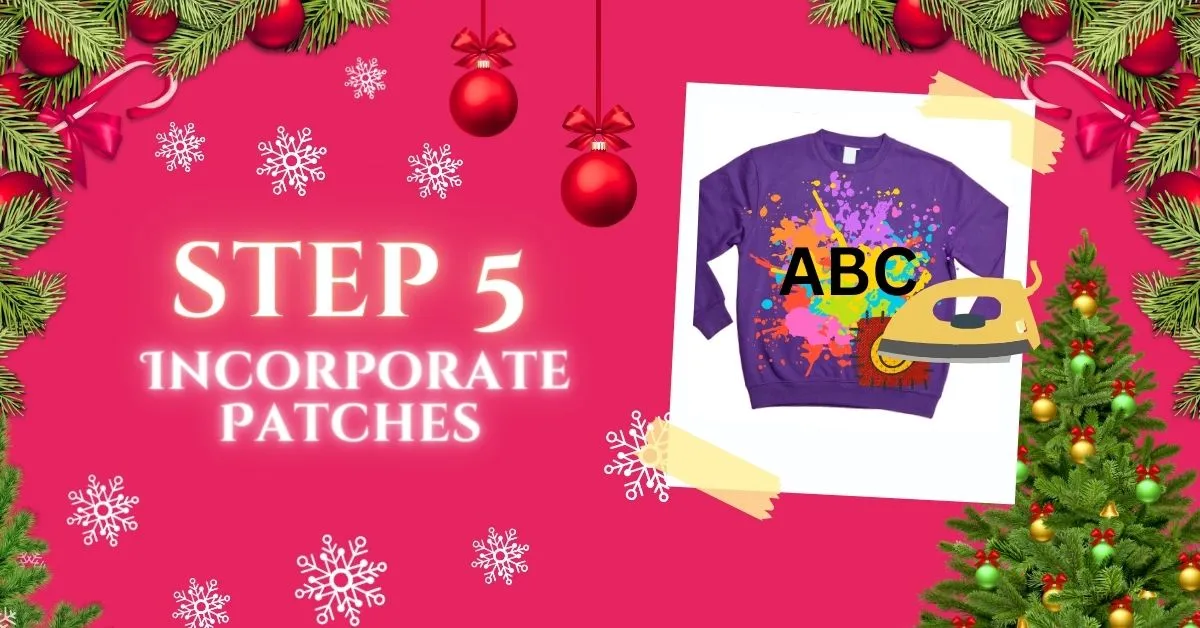 Iron on or sew holiday-themed patches or iron-on transfers to your sweater. These can include gingerbread men, candy canes, or any other festive designs you find.
Step 6: Embellish with Sequins and Beads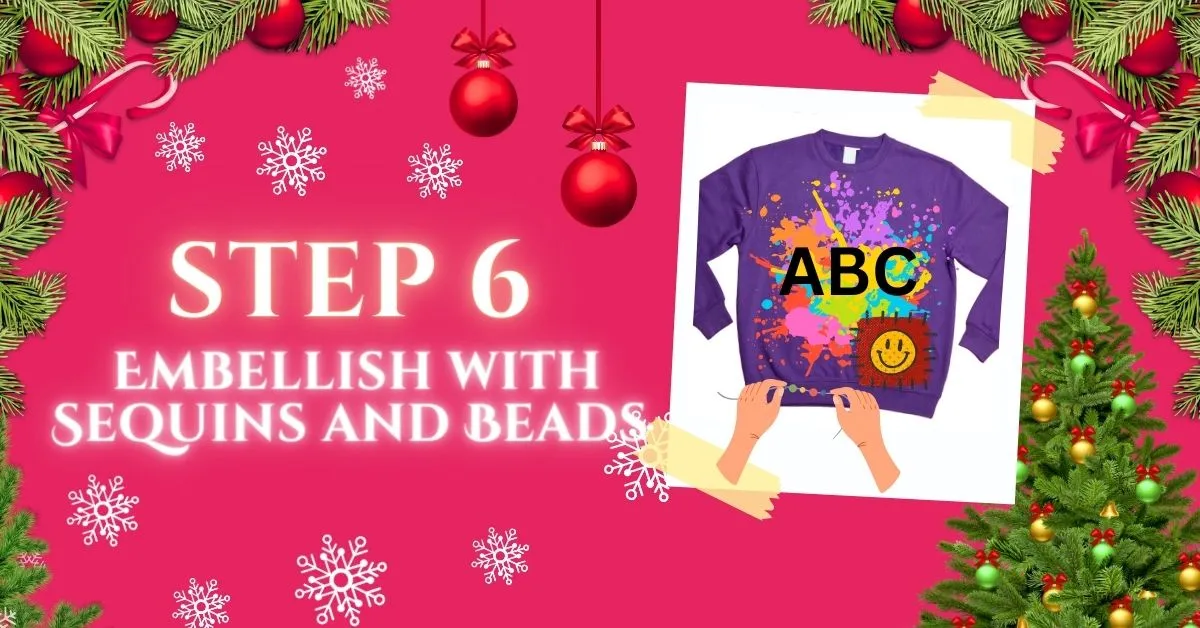 Glue sequins, beads, or buttons in random patterns or clusters on your sweater. This adds extra texture and bling to your ugly creation.
Step 7: Create 3D Elements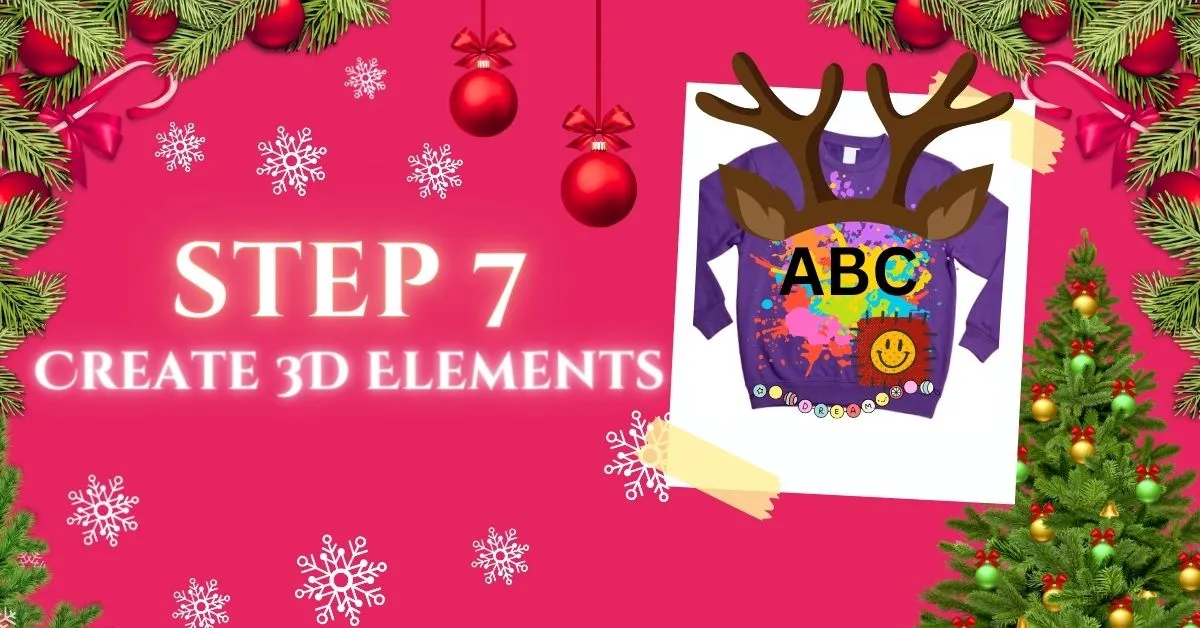 Cut out shapes from felt fabric (like Santa hats or reindeer antlers) and attach them to the sweater using glue. This gives your sweater a three-dimensional look.
Step 8: Sew On Additional Decorations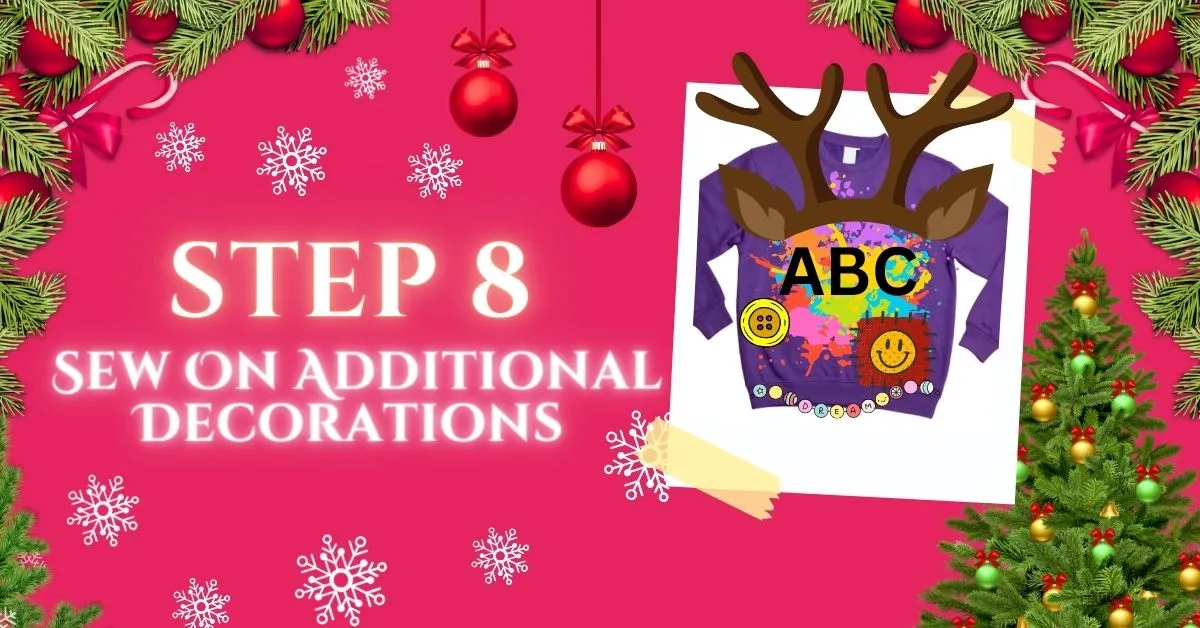 If you have any larger decorations that might not adhere well with glue, consider sewing them onto the sweater using a needle and thread.
Step 9: Optional Light-Up Features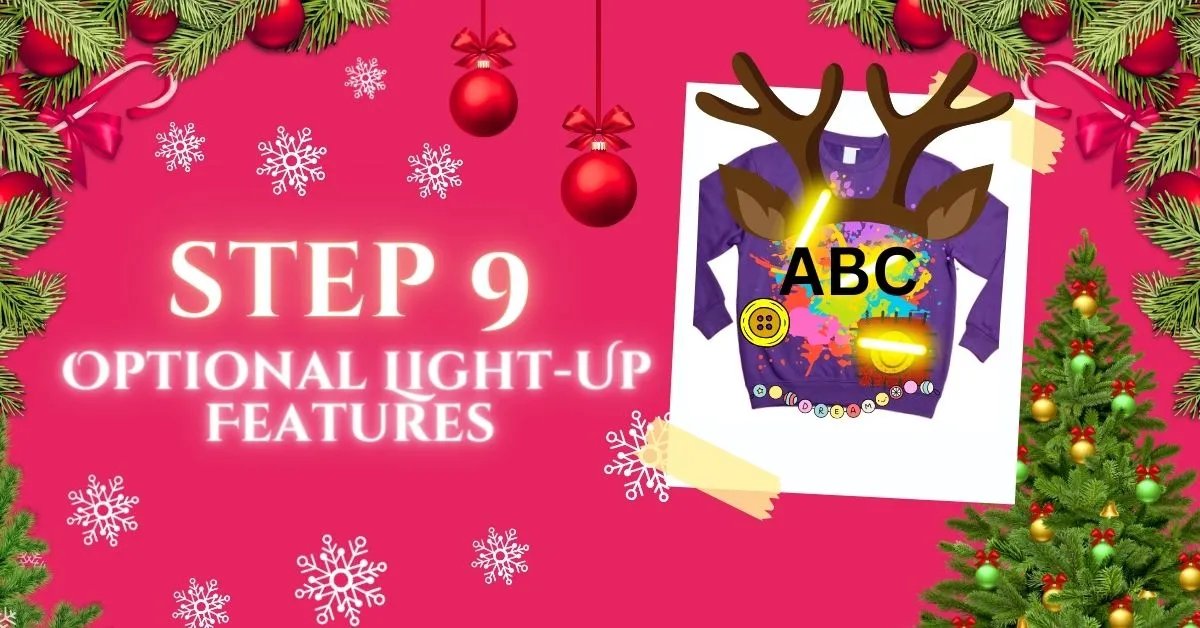 For an extra eye-catching element, attach LED lights or battery-operated string lights to your sweater. Secure them with the glue gun or by sewing them in place.
Step 10: Final Touches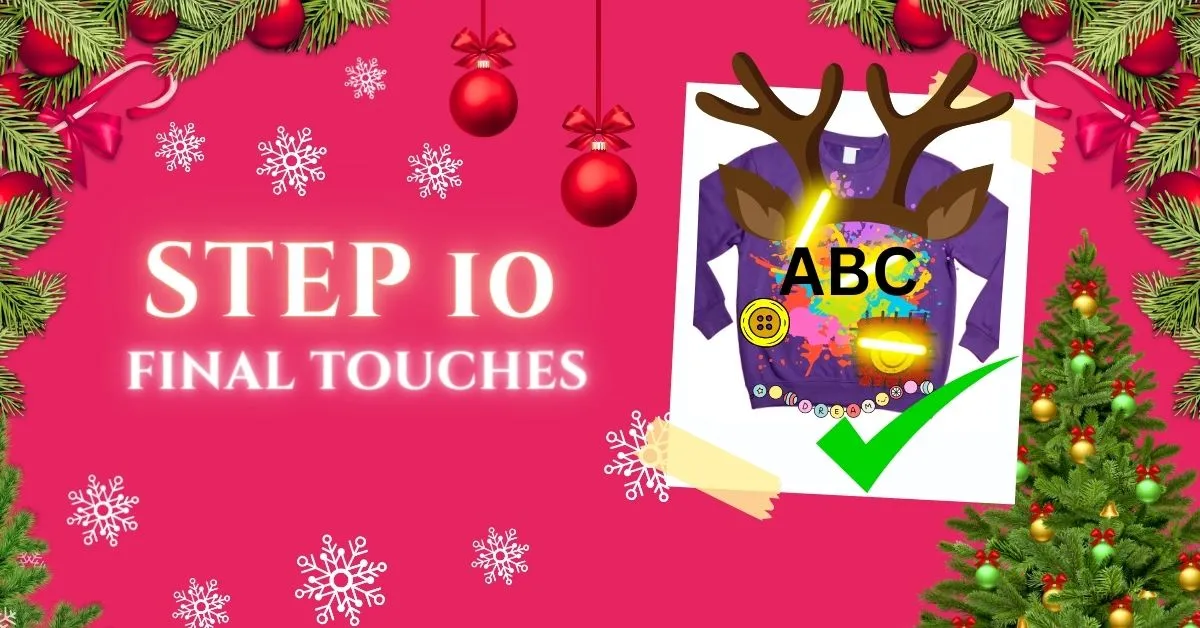 Review your sweater and make any final adjustments or additions as needed. Ensure that all decorations are securely attached.
Step 11: Wear and Flaunt Your Creation
Put on your homemade ugly Christmas sweater with pride, and wear it to holiday parties, family gatherings, or even an ugly sweater contest. Don't forget to snap some photos to commemorate your festive fashion statement!
Remember, the key to creating the perfect ugly Christmas sweater is to let your imagination run wild and not take yourself too seriously. Embrace the tackiness and enjoy the holiday season with your one-of-a-kind creation!
Ugly Christmas sweater DIY ideas
Crochet Ugly Christmas Sweater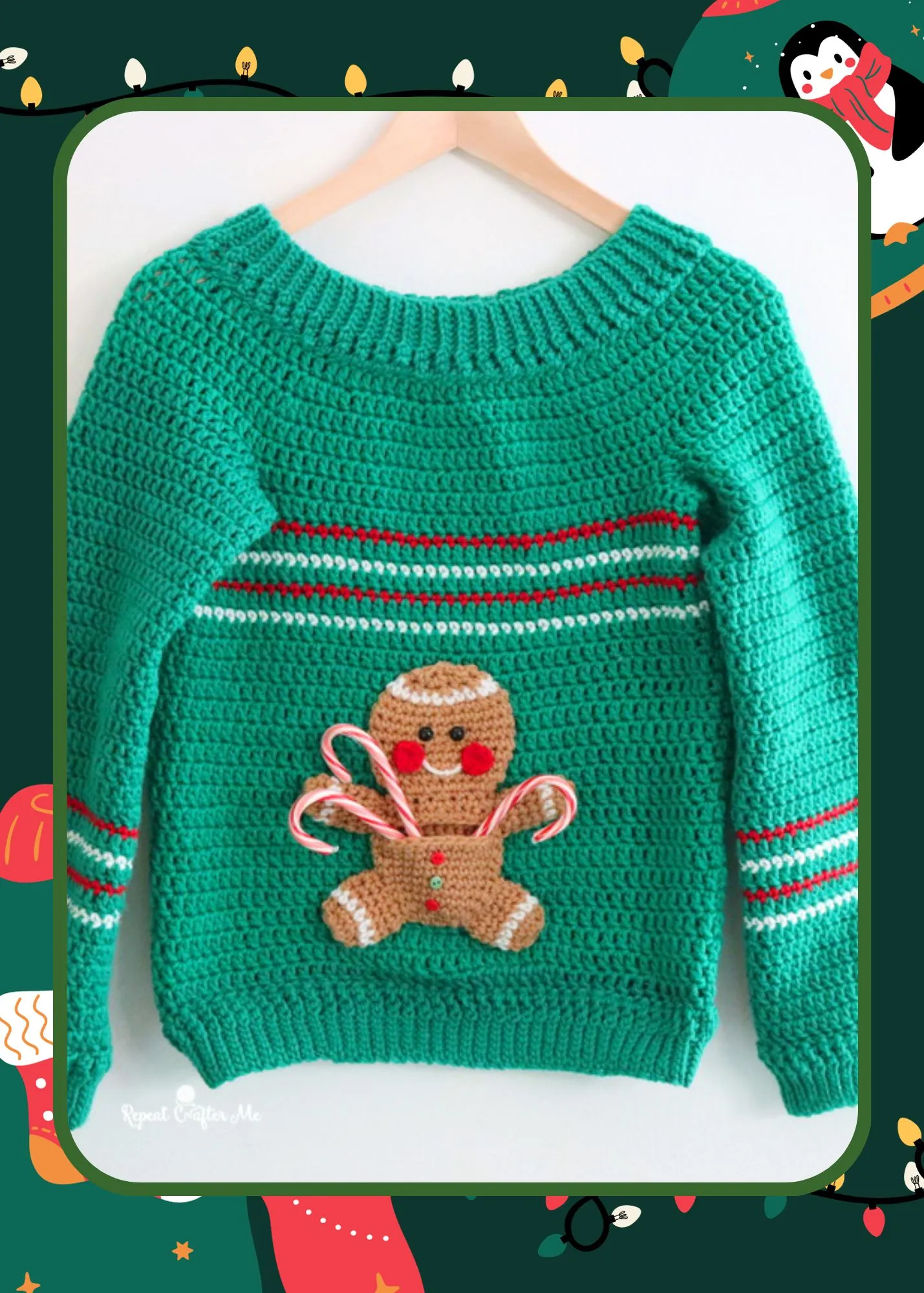 Craft a cozy and whimsical Christmas sweater using crochet techniques. Incorporate classic holiday motifs like snowflakes, reindeer, or Christmas trees into your design.
Starbucks Cup Ugly Christmas Sweater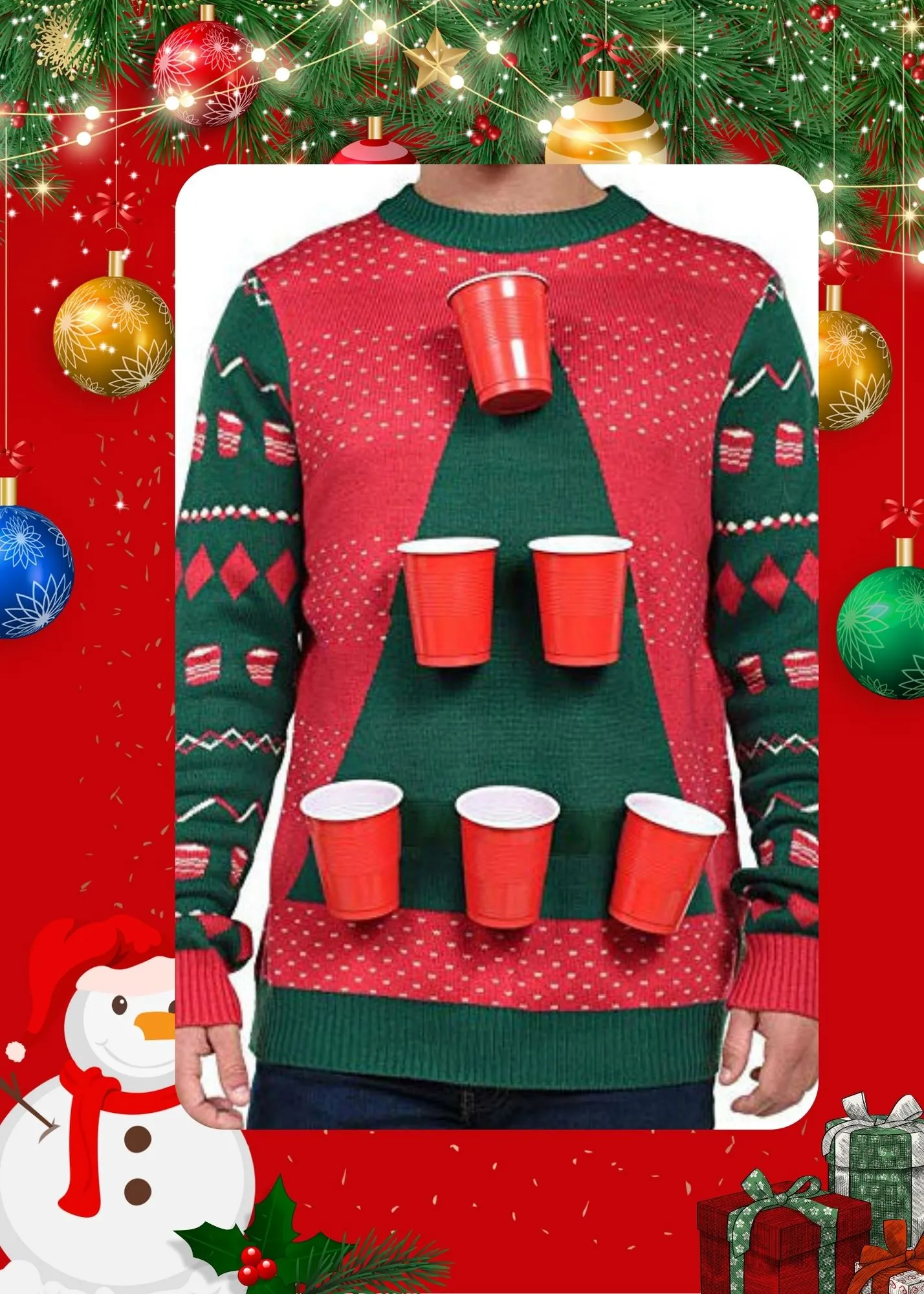 Create a sweater that pays homage to your favorite coffee shop by attaching miniature Starbucks cup replicas adorned with holiday-themed designs.
Construction Paper Tree Christmas Sweater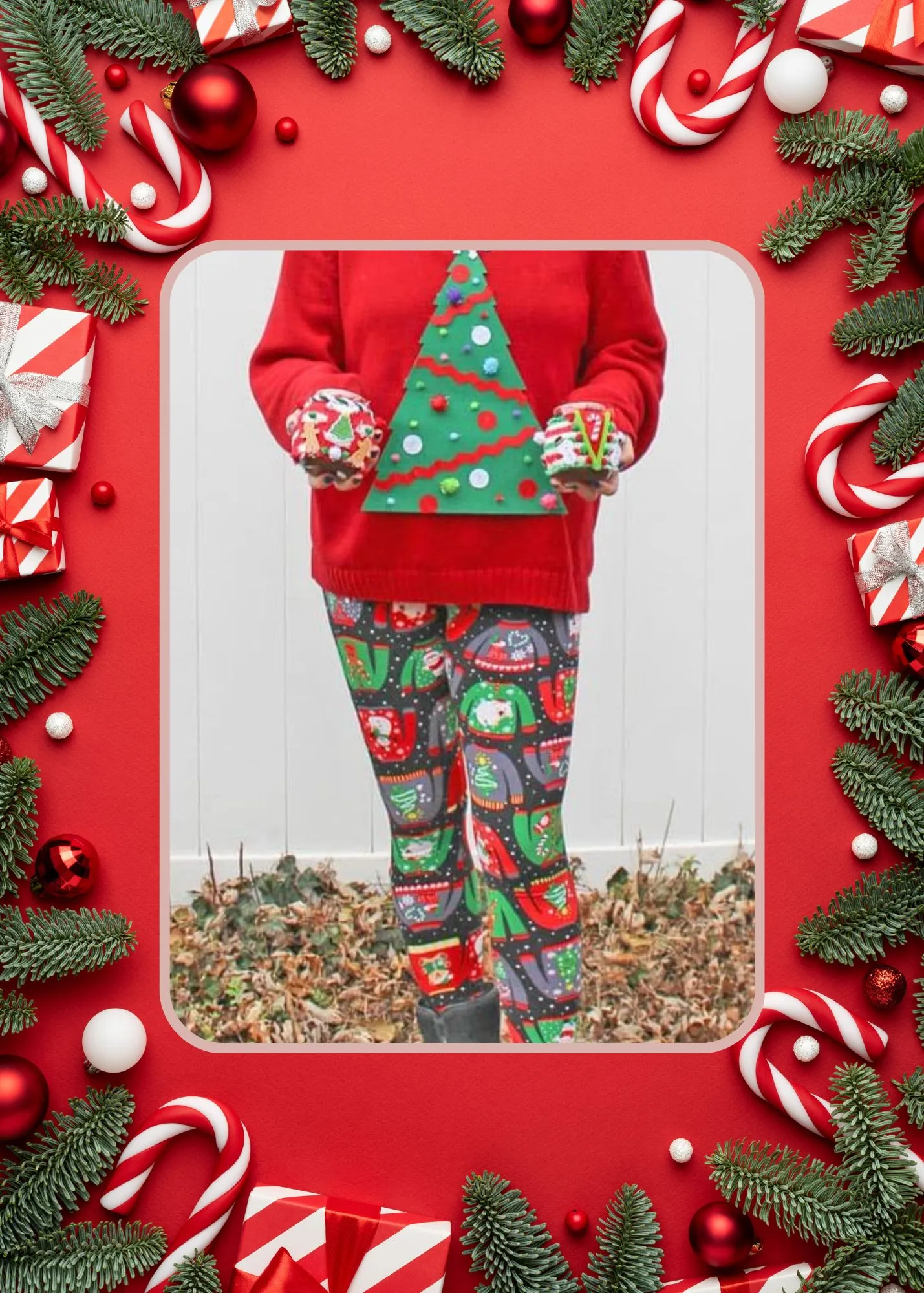 Embrace the simplicity of DIY by cutting and pasting festive holiday shapes from colored construction paper onto your sweater, forming a delightful Christmas tree and other holiday elements.
Tropical Christmas Ugly Sweater
Give your sweater a twist with a tropical theme by adding paper or fabric palm trees, mini leis, and tropical flowers, merging the warmth of the holidays with a beachy vibe. This is one of the best DIY ugly christmas sweater ideas
Tacky Christmas Sweater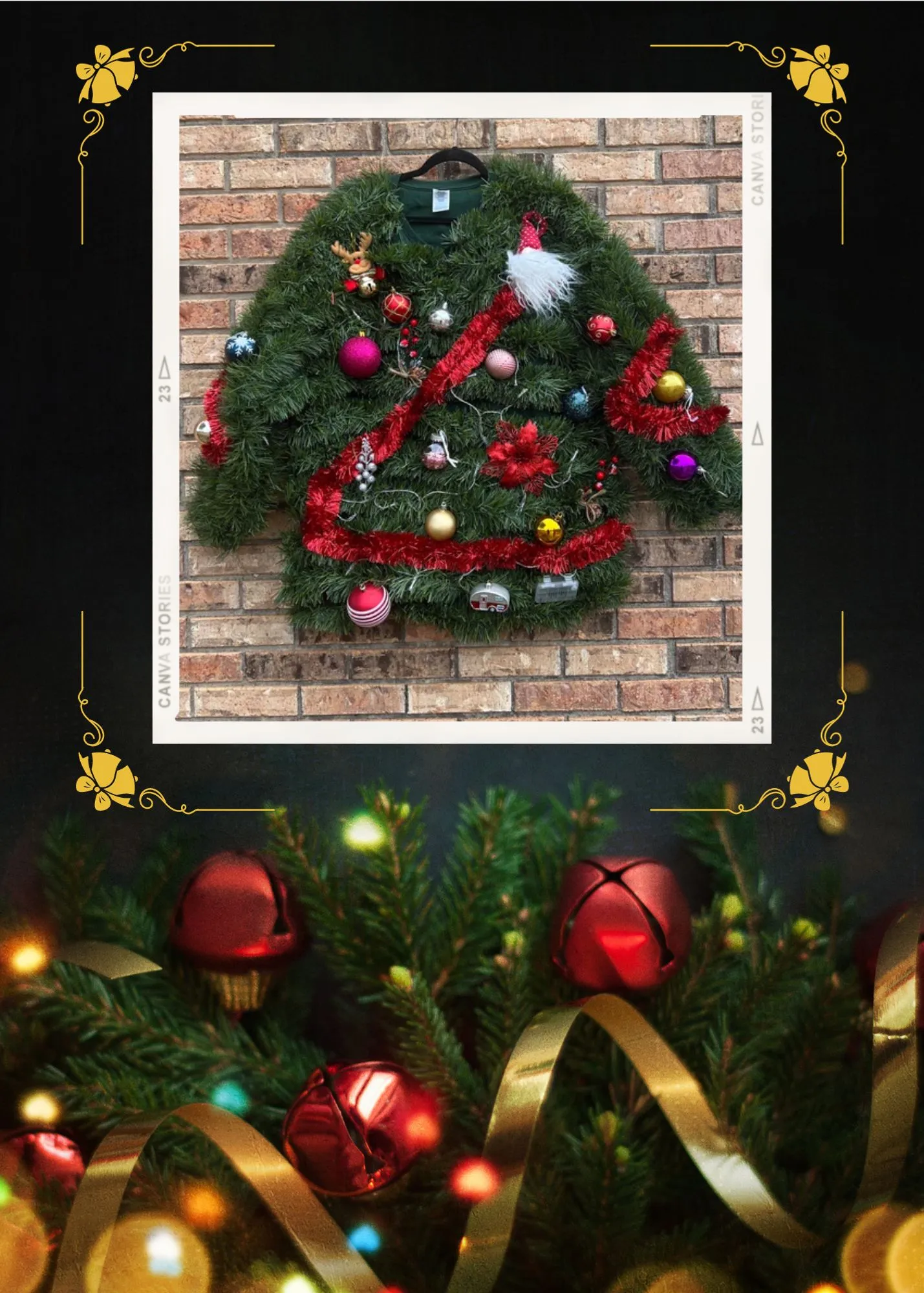 Go all out by combining various kitschy elements such as pom-poms, jingle bells, and clashing colors to create the ultimate tacky Christmas sweater.
Gaudy Garland Sweater: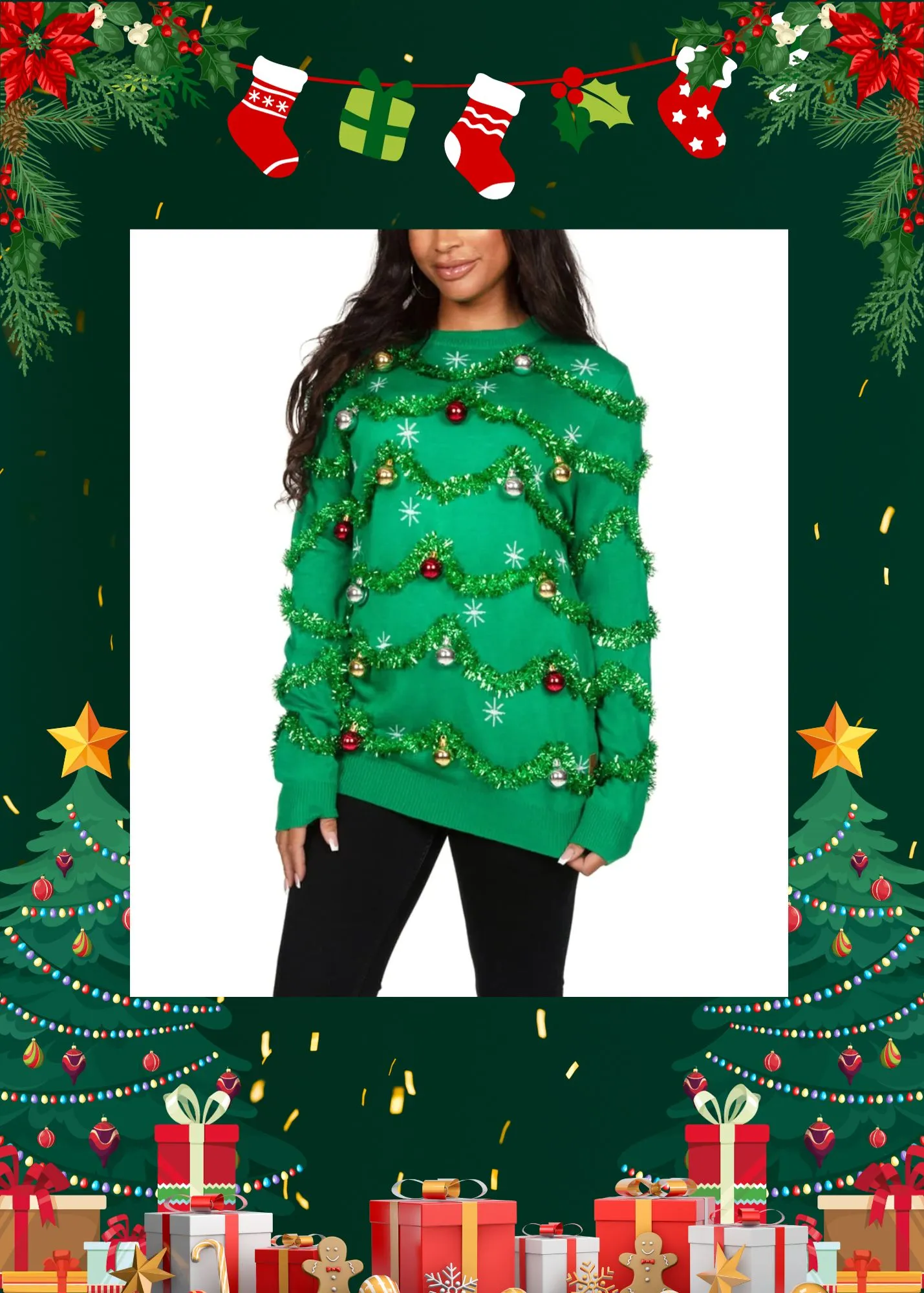 Adorn your sweater with colorful garlands, tinsel, and miniature ornaments, creating a festive and flamboyant look that's sure to stand out.
Star Trek Ugly Sweater: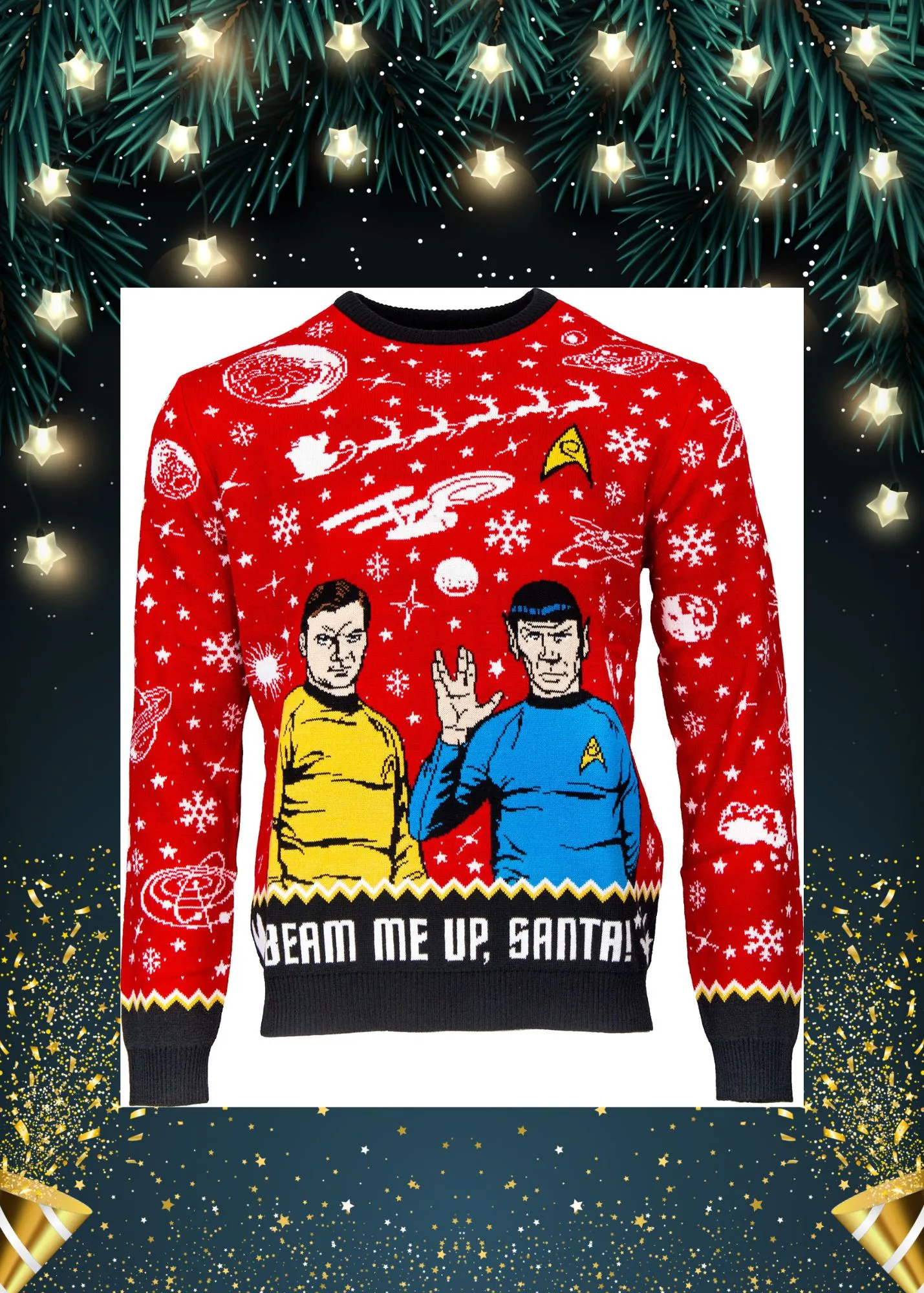 Merge your love for sci-fi with the holiday spirit by decorating your sweater with Star Trek-inspired elements like starships, Klingon symbols, or tribbles.
Ugly Reindeer Sweater: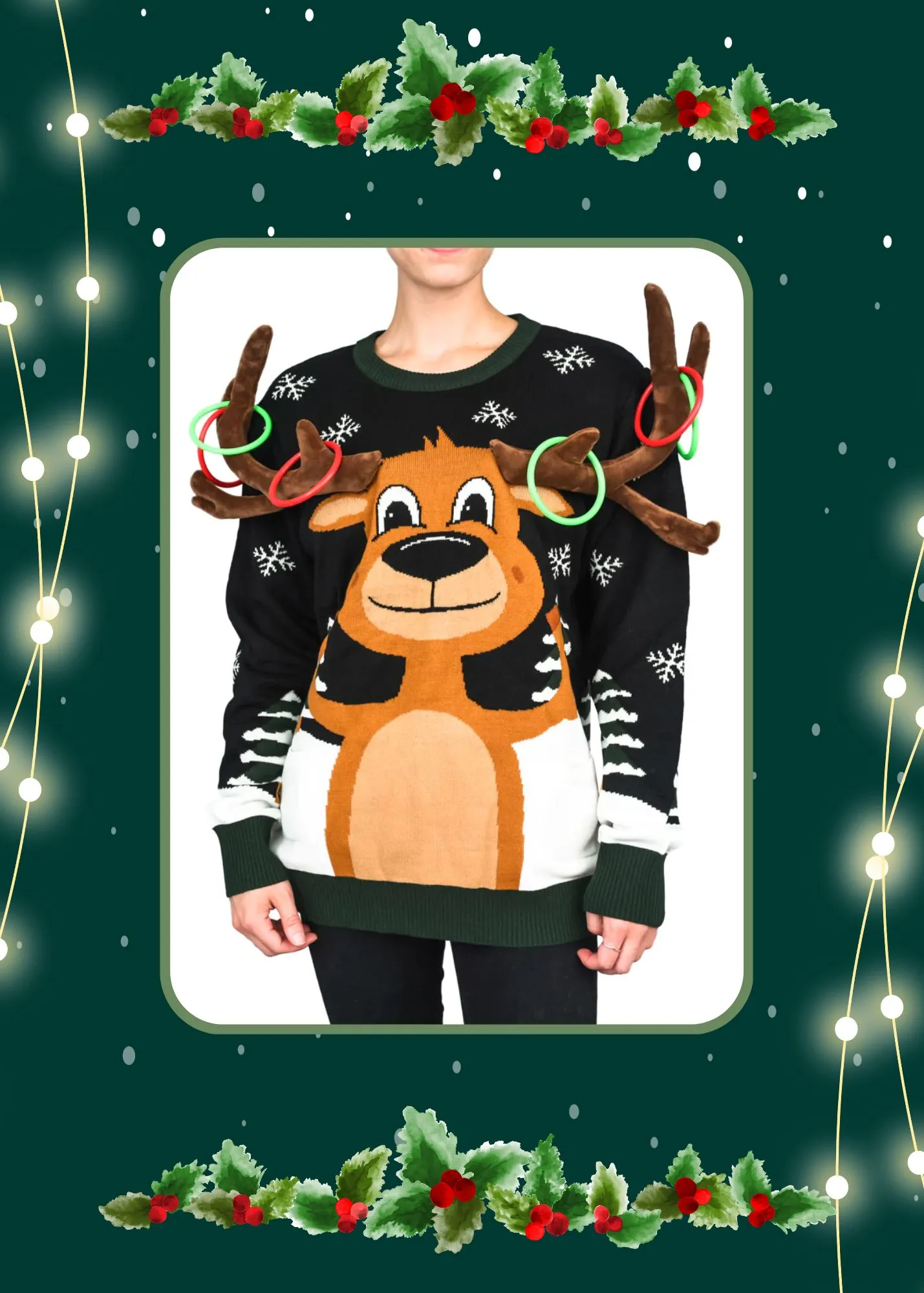 Transform your sweater into a reindeer wonderland with felt antlers, googly eyes, and a red pom-pom nose, giving yourself a festive and comical makeover.
Christmas Tree Tie Sweater: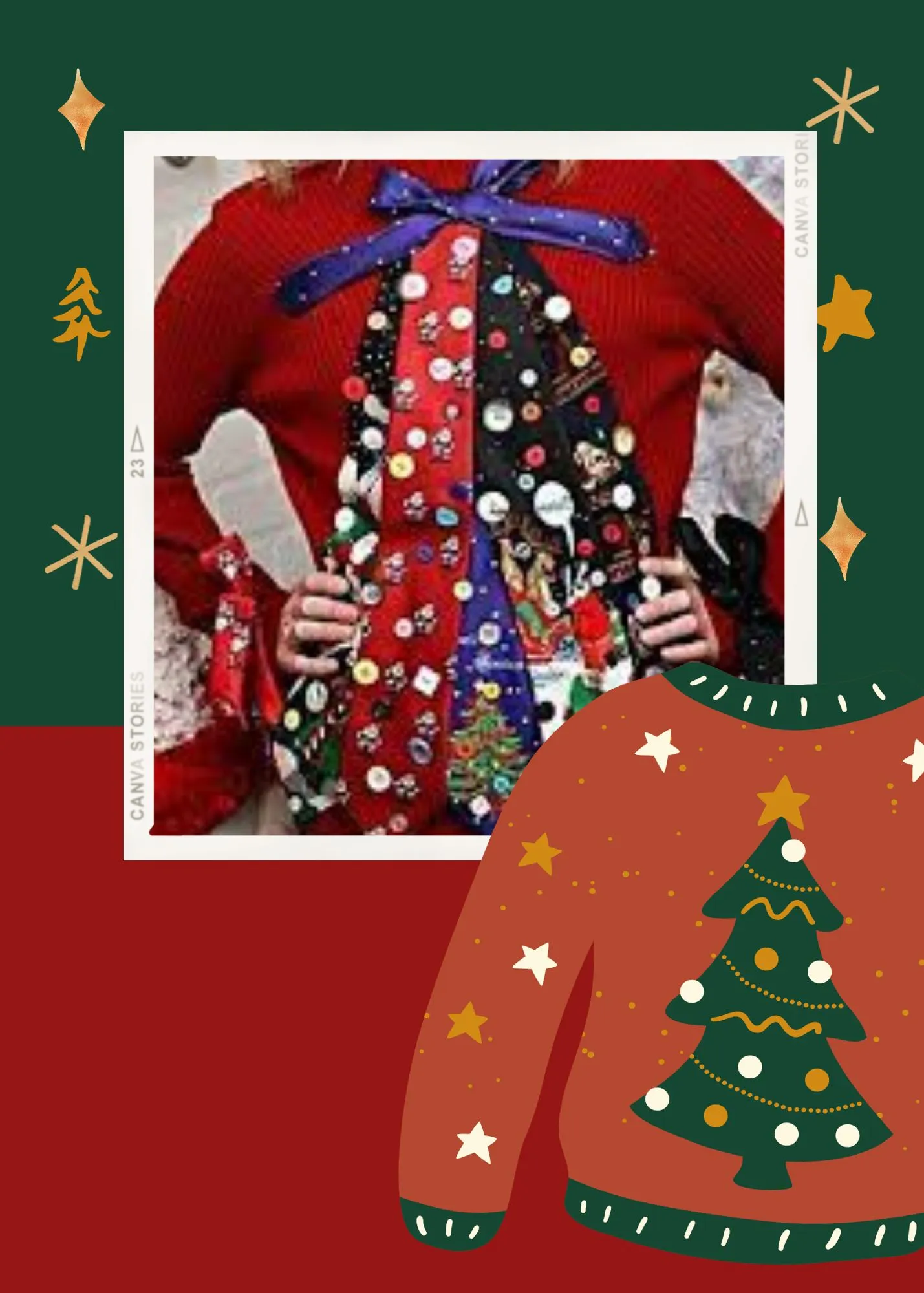 Craft an integrated design by attaching a festive tie-shaped cutout to your sweater, complete with colorful ornaments, and wear it as part of your ensemble.
The Ugly Sweater Set for Couples:
Coordinate with your partner to create a matching pair of ugly Christmas sweaters. Consider complementary themes like Mr. and Mrs. Claus, elves, or gingerbread cookies.
Cheap and Ugly Homemade Christmas Sweater: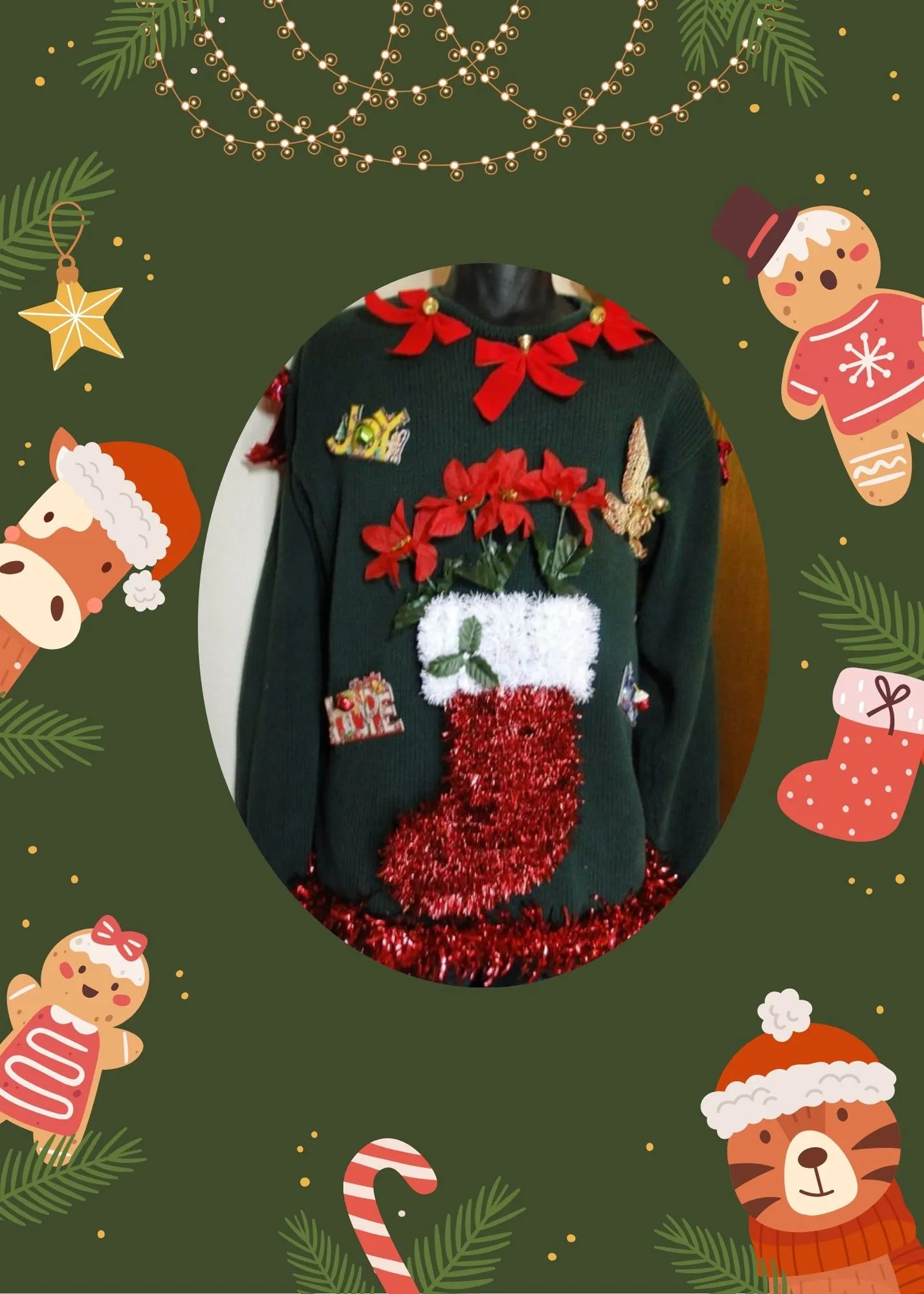 Embrace the budget-friendly approach by using household items like ribbon, buttons, and leftover decorations to fashion a charmingly cheap DIY Christmas sweater.
Mirror Ugly Sweater for Christmas: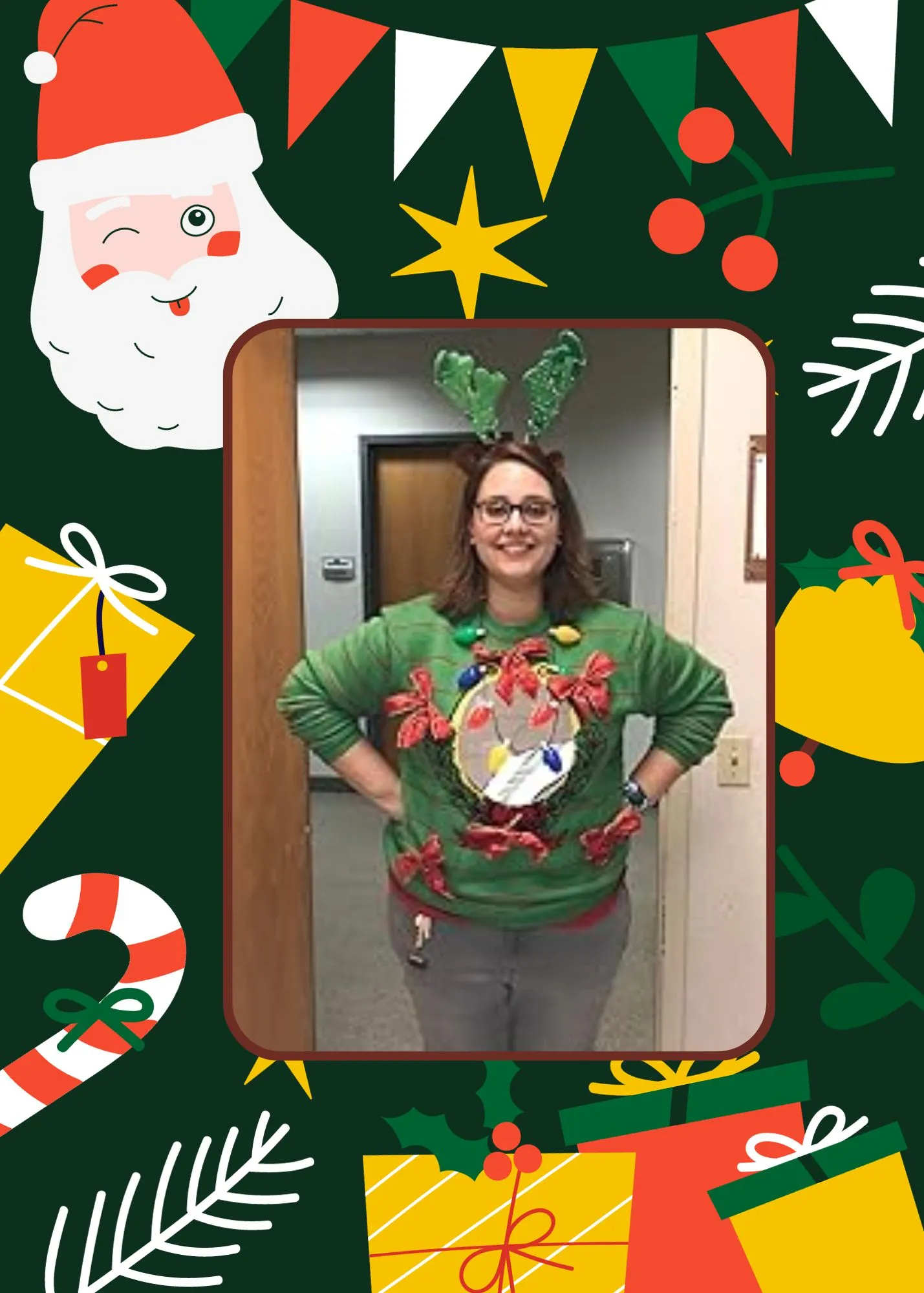 Add small, reflective mirror pieces to your sweater for a sparkling, eye-catching effect that's sure to dazzle at holiday gatherings. This is the Last minute Diy ugly christams sweater idea to make within an hour.
Snow Globe Ugly Sweater for Christmas: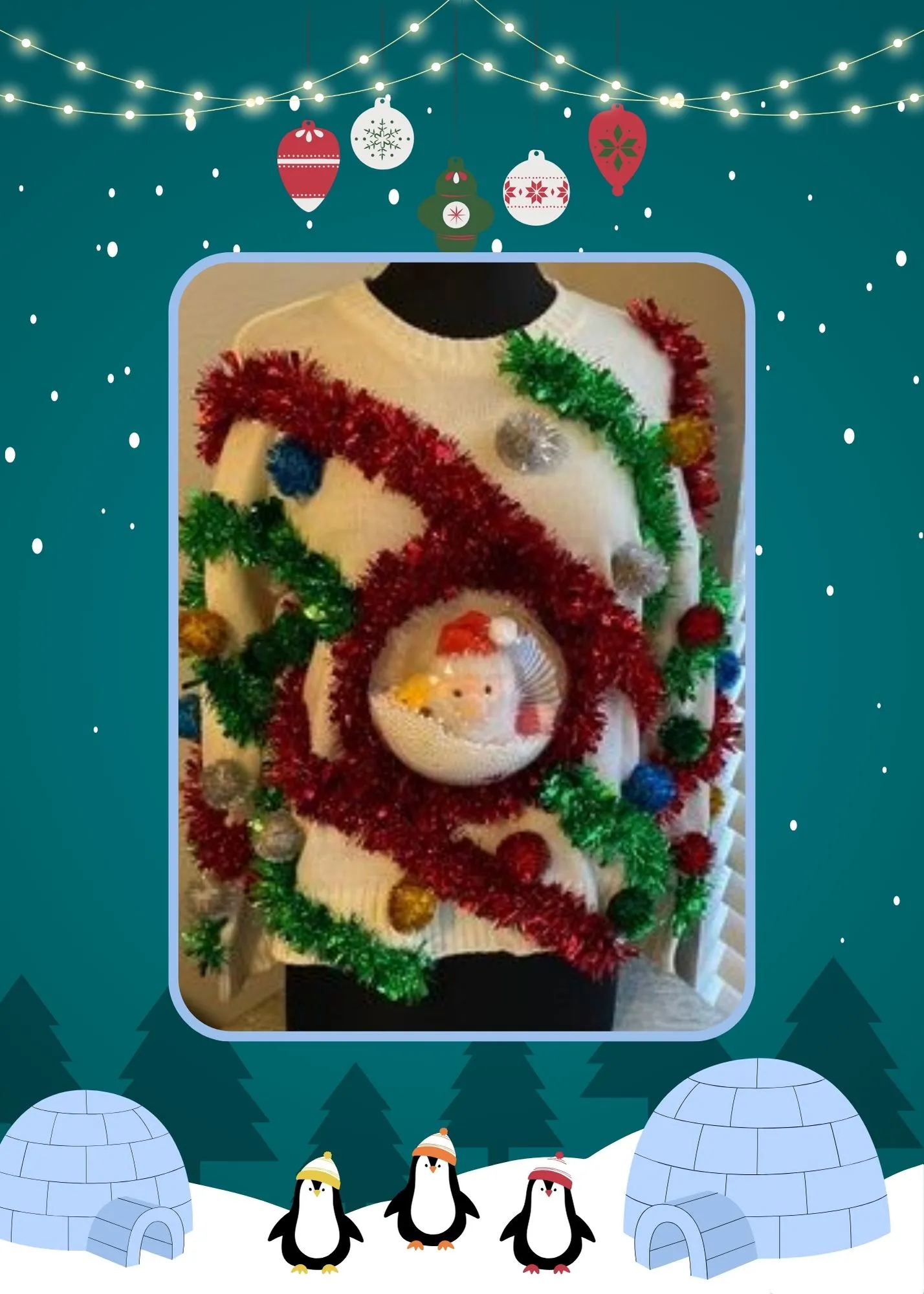 Craft a mini snow globe on your sweater using clear plastic or a transparent material, filled with mini snowflakes, glitter, and a holiday-themed figurine.
Ugly Wreath Christmas Sweater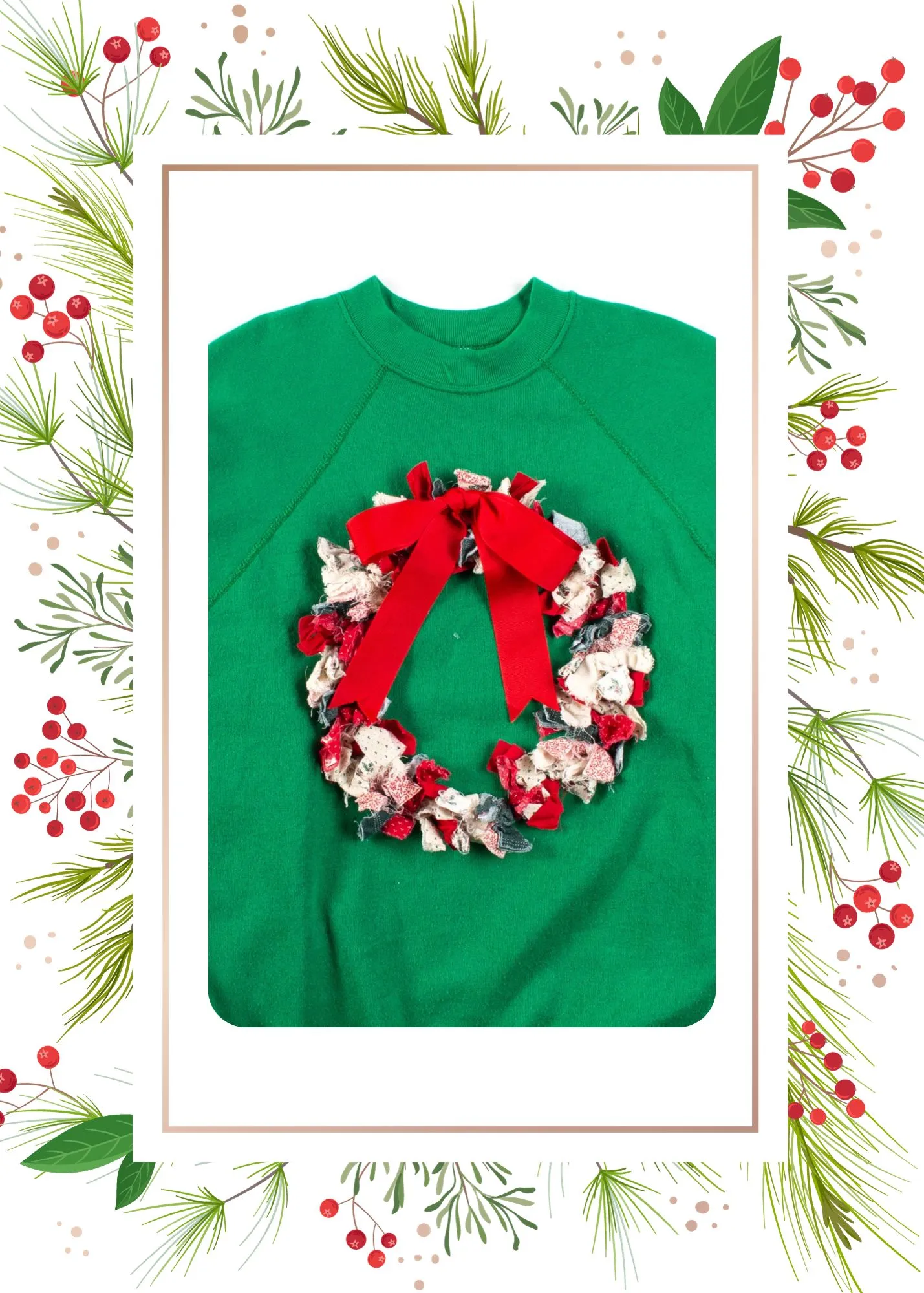 Attach a wreath made from fabric or craft materials to the front of your sweater, complete with faux holly, bows, and ornaments.
Gingerbread DIY men's Ugly Christmas Sweater: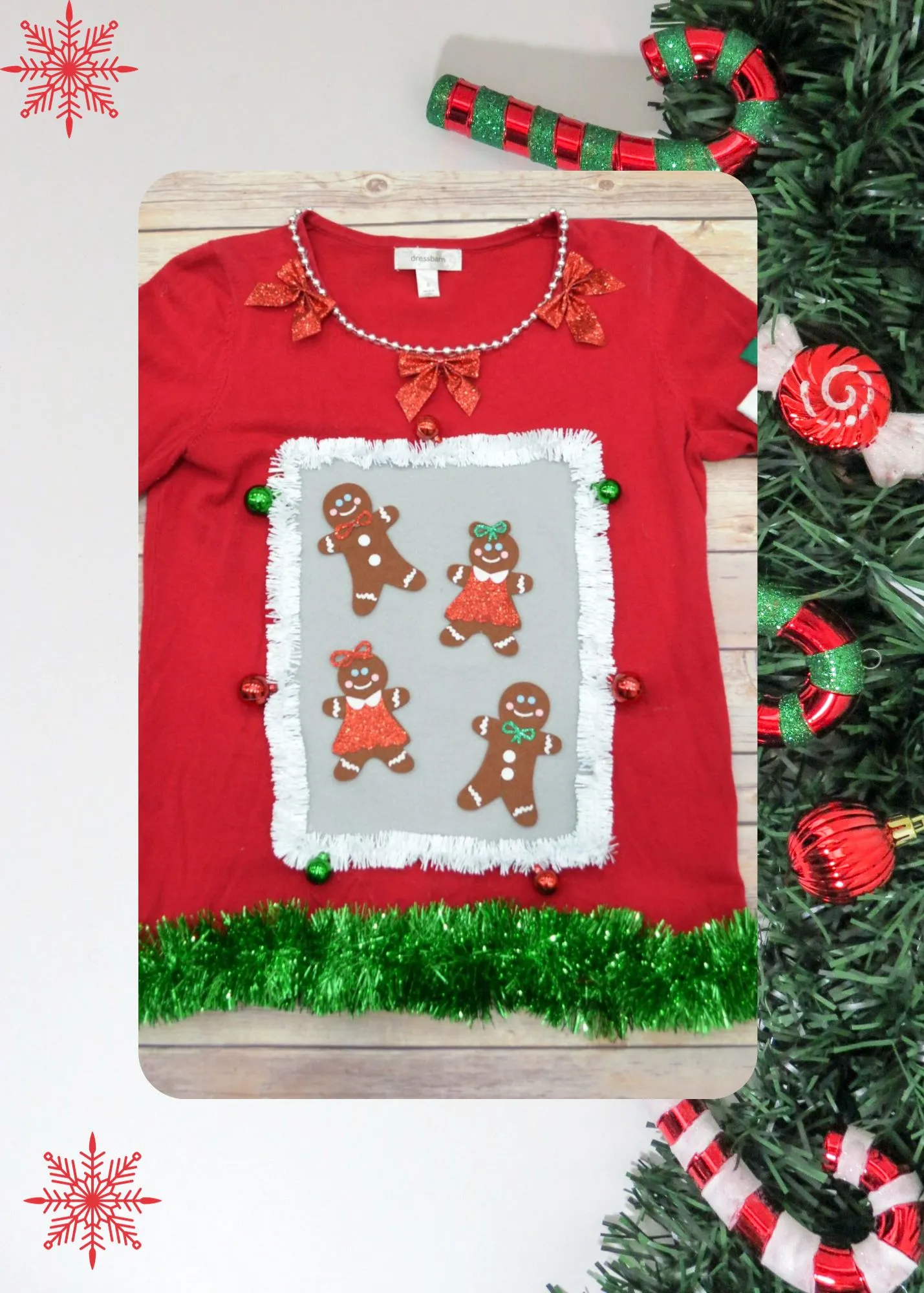 Decorate your sweater with gingerbread man cut outs, frosting details, and candy buttons, turning yourself into a delicious holiday treat.
Christmas Stocking Sweater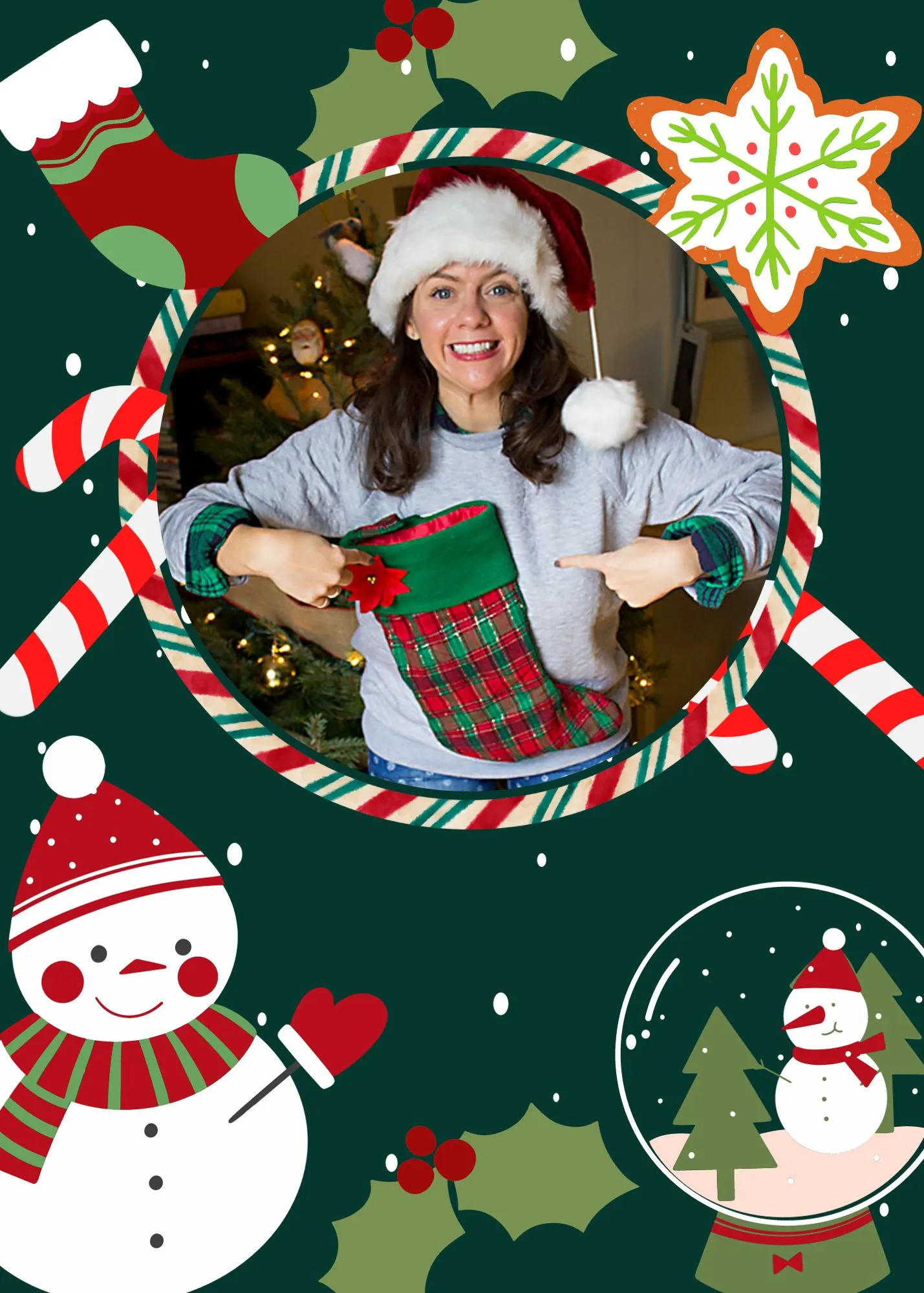 Stitch or glue a Christmas stocking onto your sweater, then fill it with small, festive surprises like candy canes or tiny ornaments.
Christmas Tree Ugly Sweater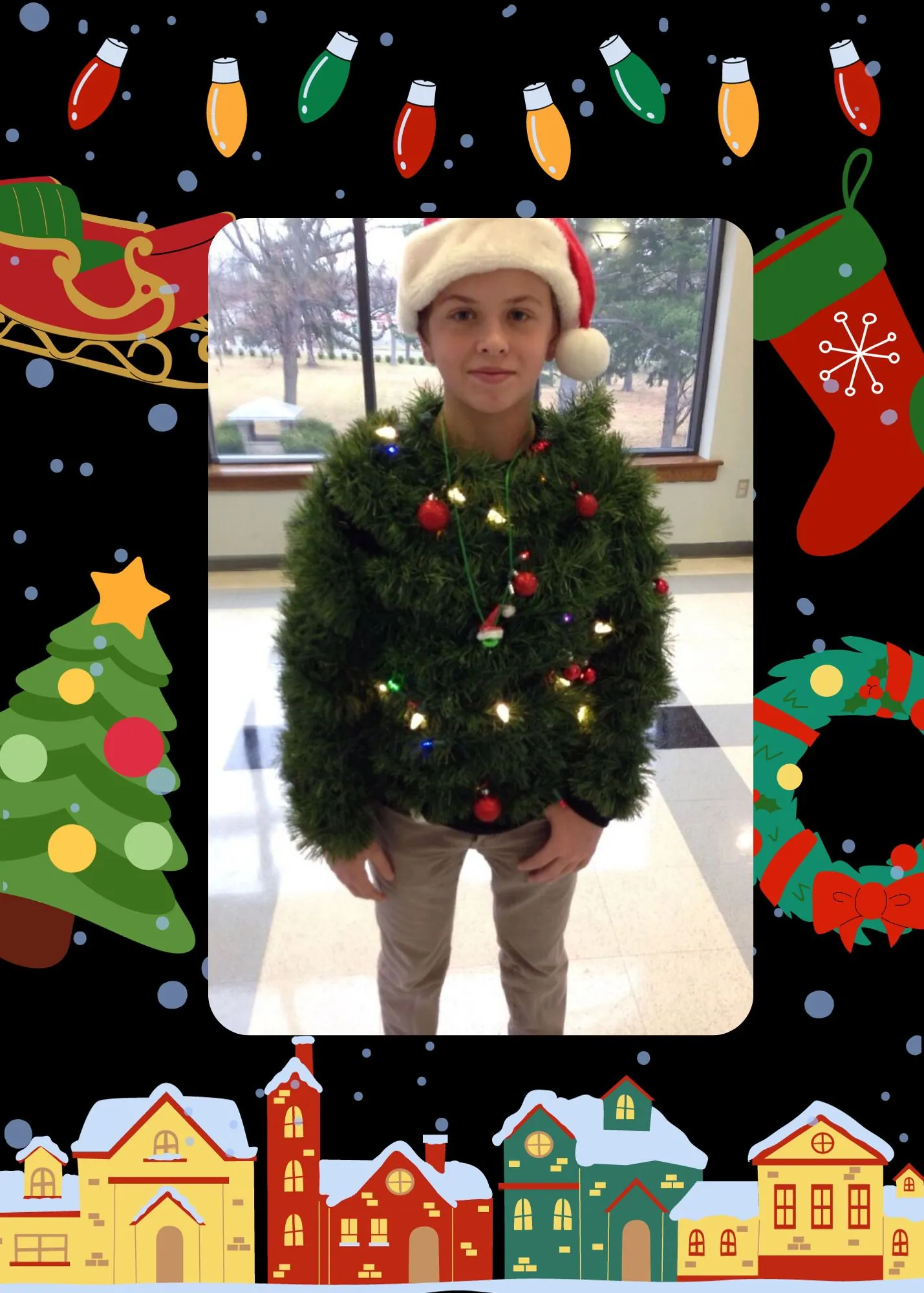 When it comes to creating a Christmas Tree Ugly Sweater, you have the perfect canvas to express your holiday creativity. Elevate the classic Christmas tree theme by adding a whimsical touch to your DIY project. Start by selecting a plain sweater in a festive color, such as green or red, as your base.
Then, gather 3D elements like miniature ornaments, tinsel, and twinkling lights to bring your sweater to life. Glue on miniature ornaments to mimic the baubles adorning a Christmas tree, and use tinsel to create the illusion of garland.
For an extra festive touch, incorporate battery-operated string lights that can be easily attached to your sweater, giving it a magical glow. With these DIY Christmas tree ugly sweater ideas, you'll be wearing a whimsical and eye-catching piece that's sure to stand out at any holiday gathering.
Embrace the holiday spirit with this fun and creative project that's bound to bring smiles and laughter wherever you go.
DIY Ideas for Funny ugly Christmas sweater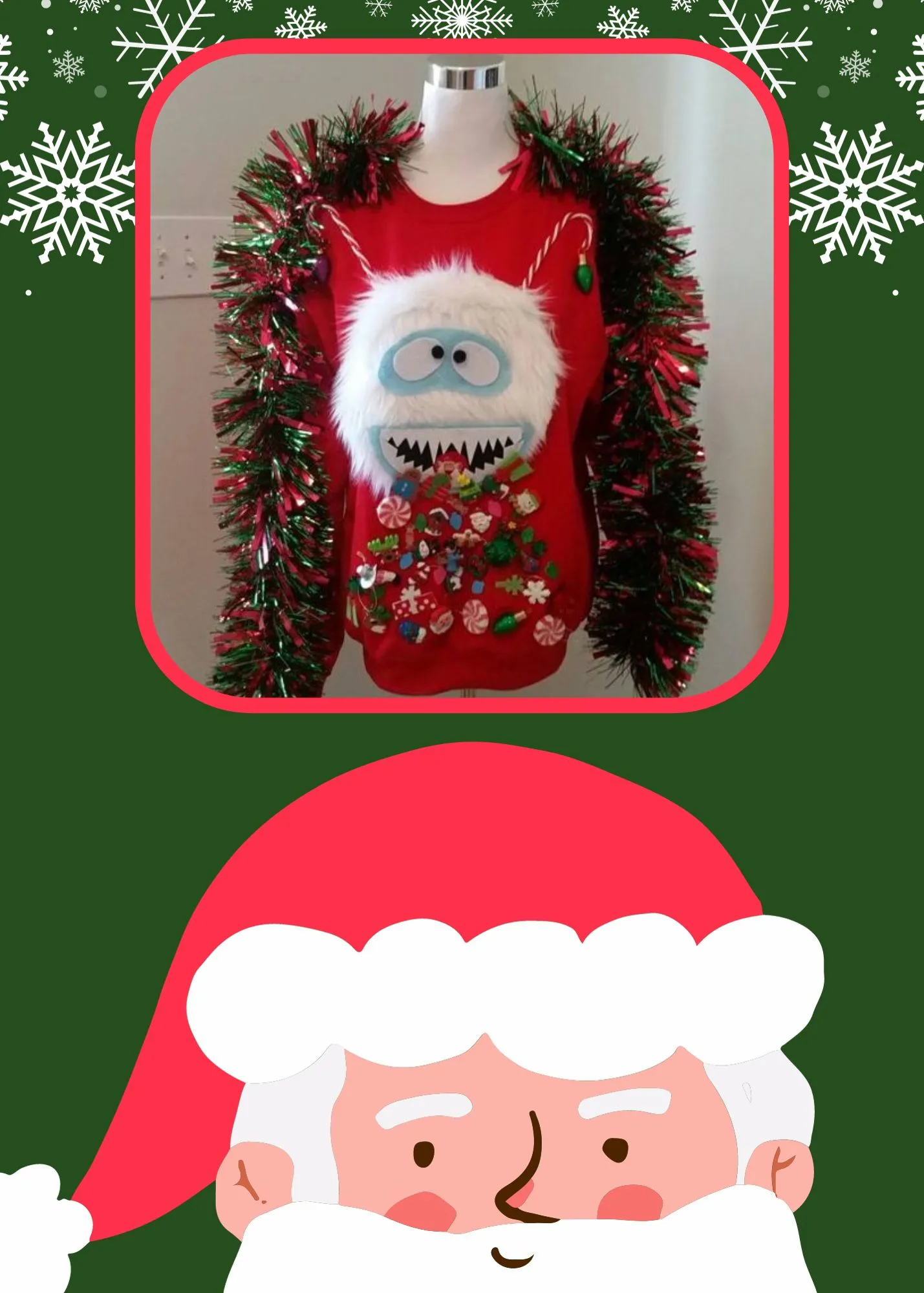 Explore endless possibilities for funny ugly Christmas sweaters DIY by combining materials like felt, fabric paint, glitter, and more. Experiment with designs that reflect your unique holiday spirit and look funny.
Easy DIY Ugly Christmas Sweater: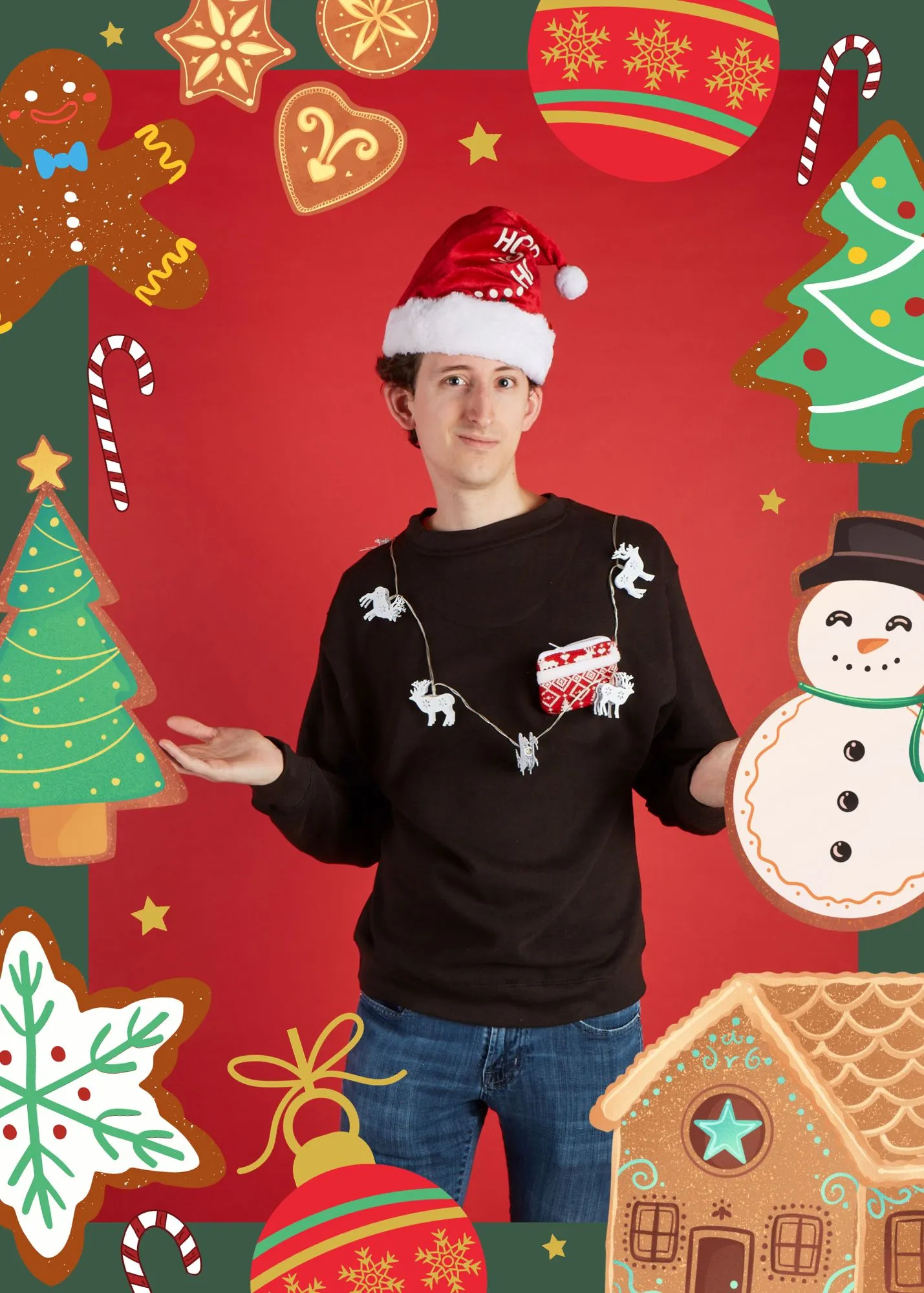 If you're short on time, opt for simple yet effective designs that incorporate pre-made holiday patches, iron-on transfers, or adhesive decorations.
Homemade DIY Ugly Christmas Sweater Ideas: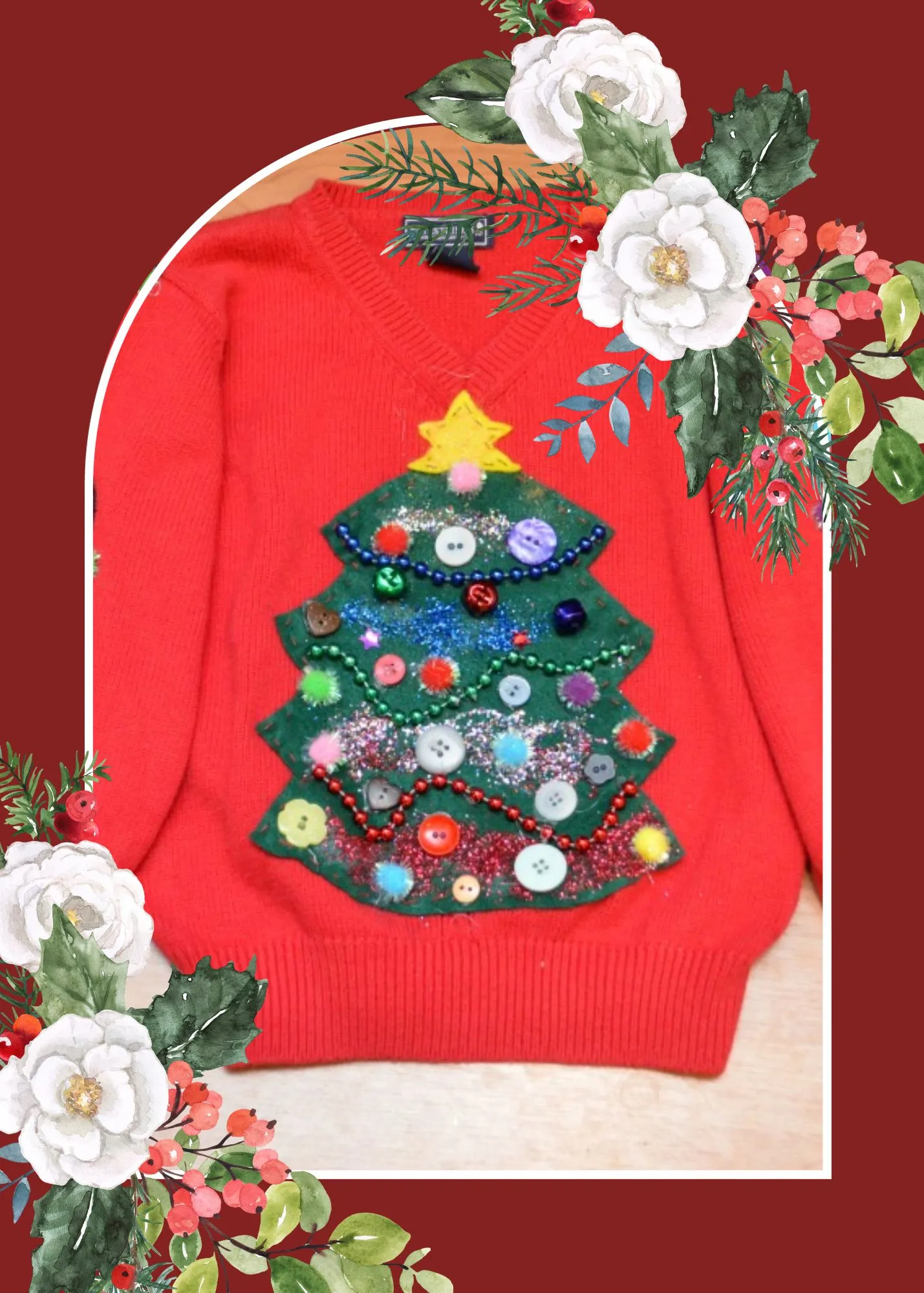 Let your imagination run wild with homemade ideas such as creating a sweater that resembles a wrapped Christmas present, a chimney with Santa's legs, or even a holiday-themed crossword puzzle.
Christmas Character Ugly Sweater: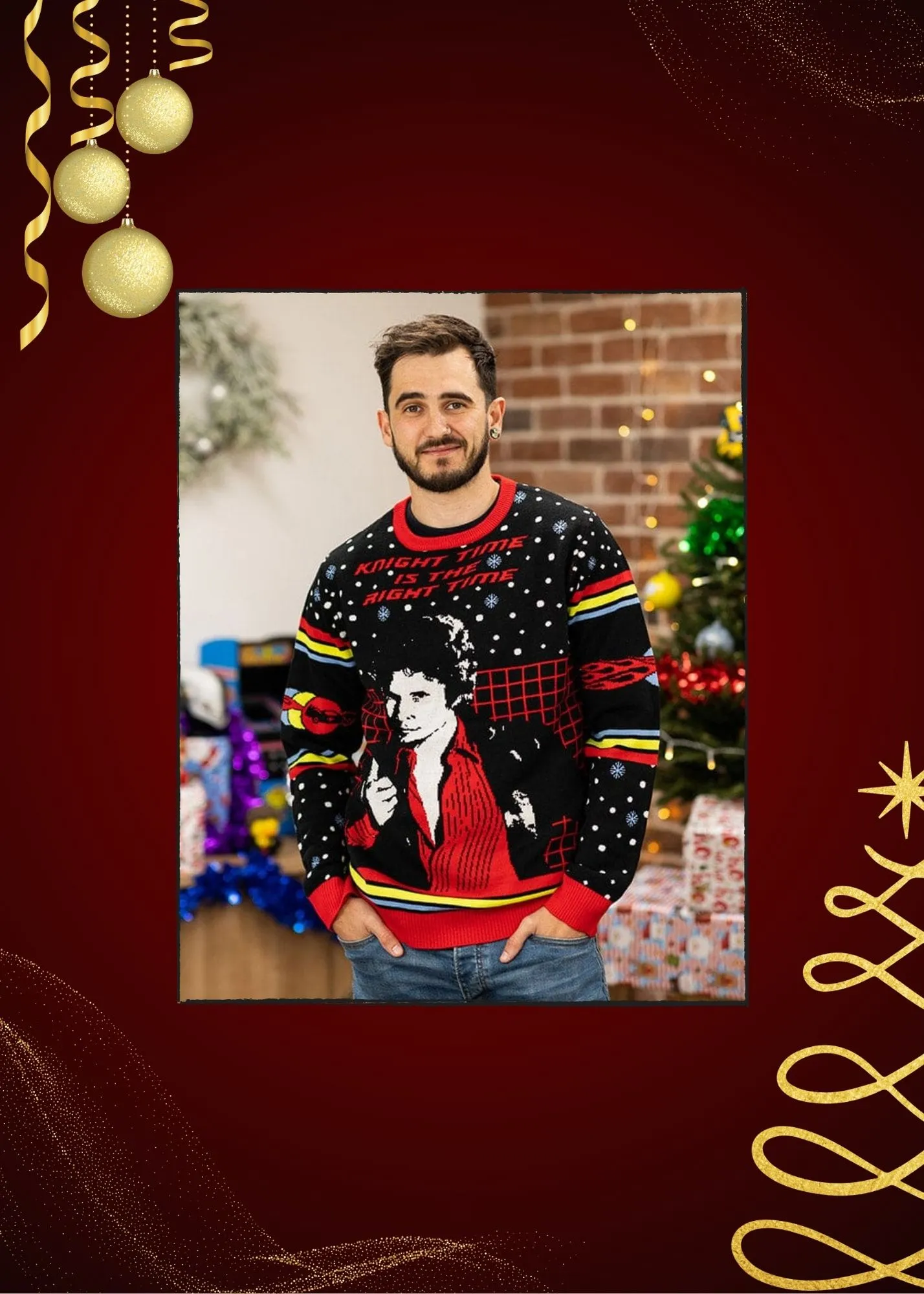 Choose a beloved Christmas character like Frosty the Snowman, Rudolph the Red-Nosed Reindeer, or the Grinch as the focal point of your sweater. Incorporate their iconic features for a recognizable and whimsical design.
Nostalgic Ugly Christmas Sweater: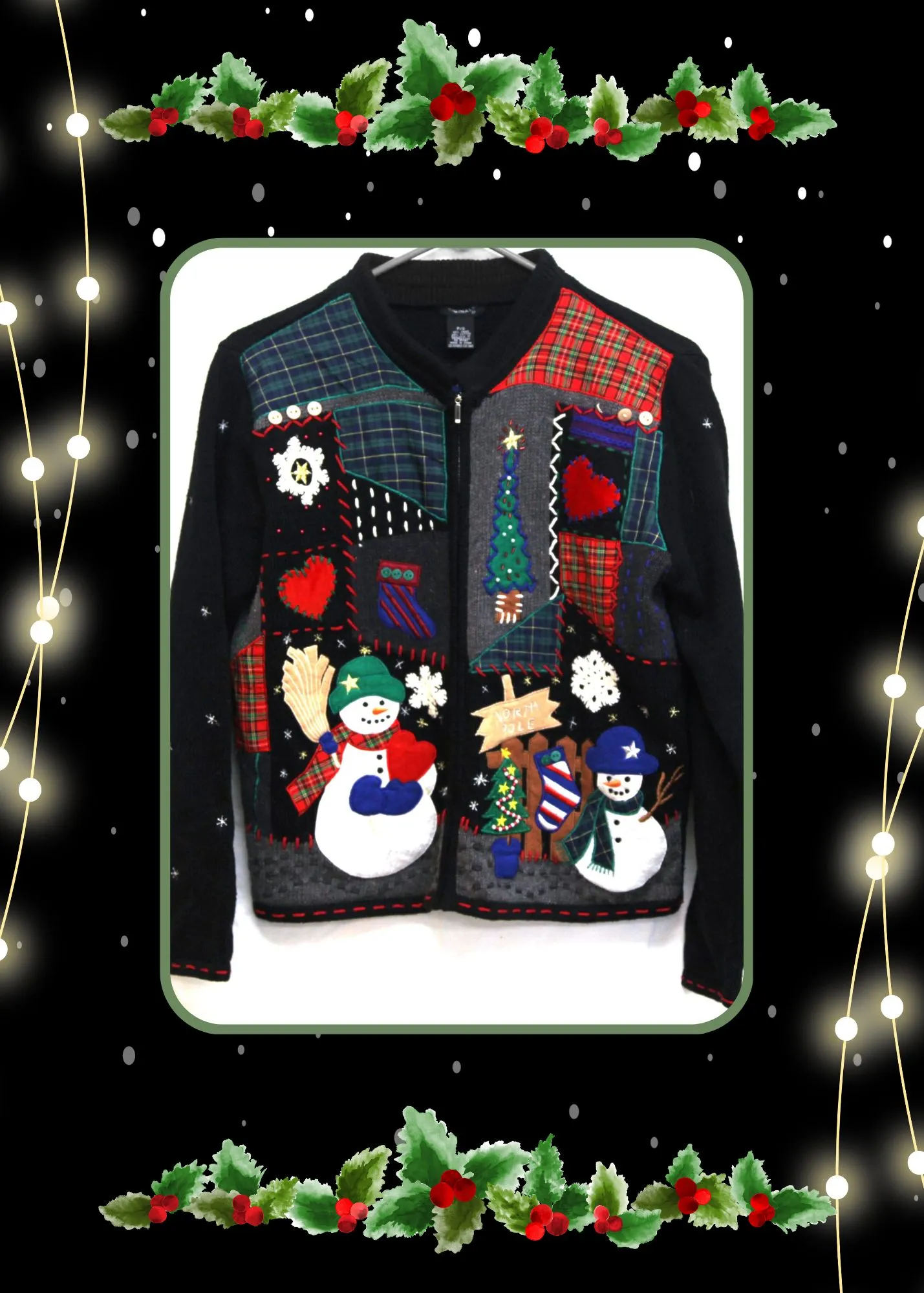 Dig into your childhood memories and adorn your sweater with vintage holiday-themed decorations like old-school ornaments, retro holiday cards, and classic Santa Claus imagery.
Ugly Sweater with a Twist: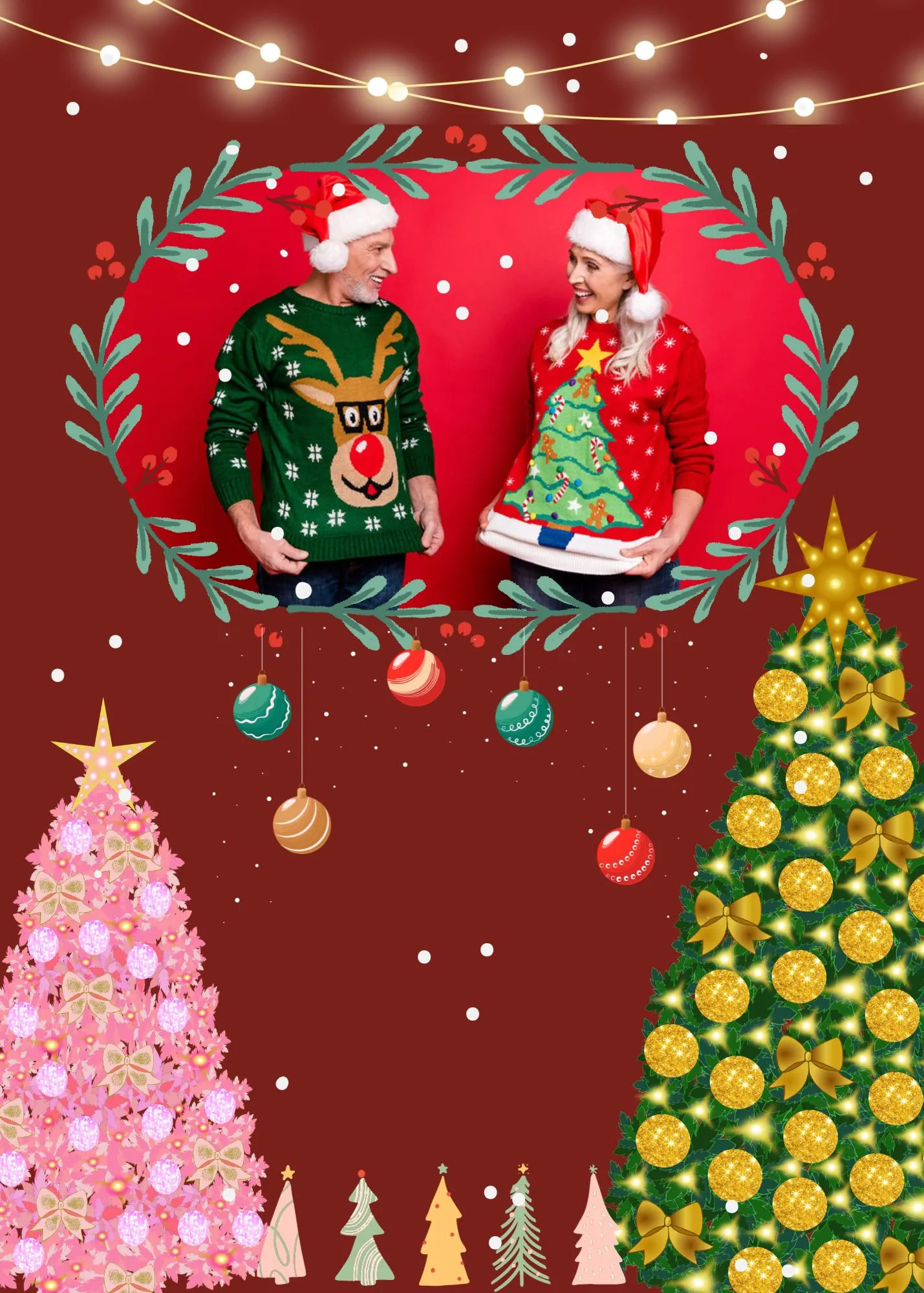 Combine two unexpected themes to create a truly unique sweater, such as a "Zombie Santa" or a "Space-Age Nativity Scene," merging holiday traditions with unexpected elements.
Sound-Activated Ugly Sweater: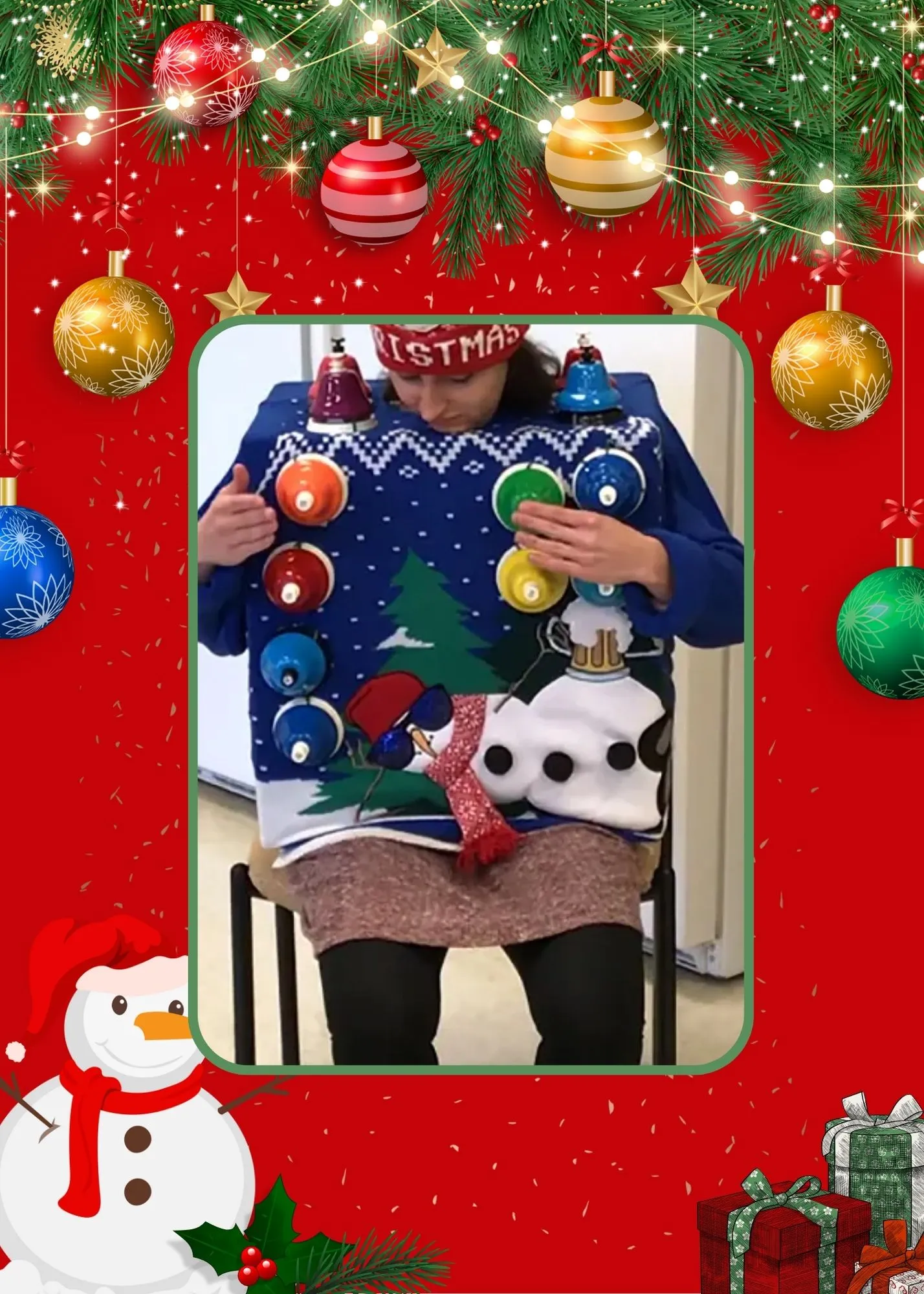 Add a playful twist by incorporating sound-activated LED lights or a speaker that plays holiday tunes when activated. Your sweater will not only look ugly but also come to life with music and lights.
The DIY Griswold Sweater: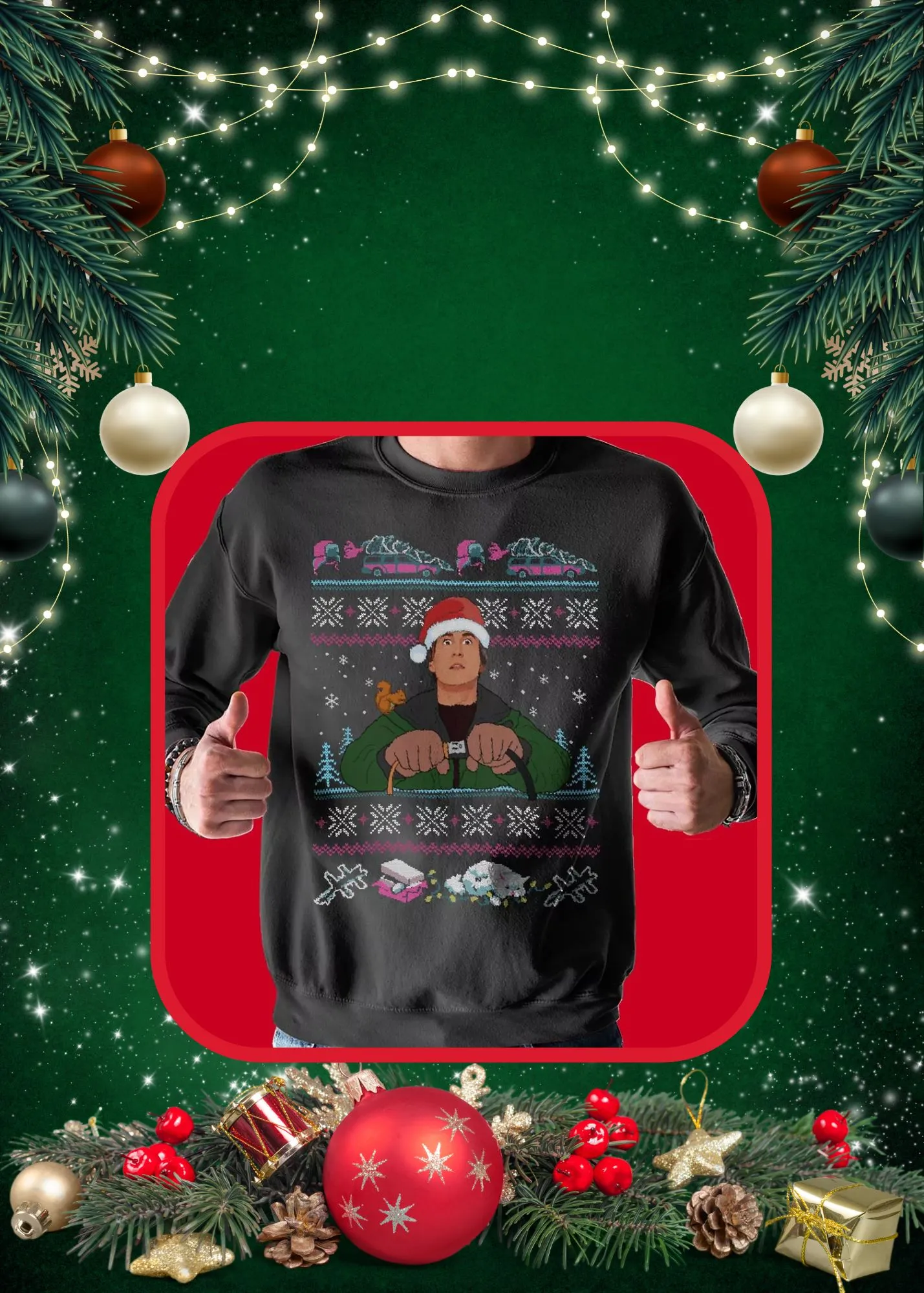 Pay tribute to the iconic Clark Griswold from "National Lampoon's Christmas Vacation" by recreating his over-the-top, house-covered-in-lights look on your sweater. Add miniature houses, tangled lights, and even a mini Cousin Eddie in his RV.
Ugly Christmas Sweater with Pockets: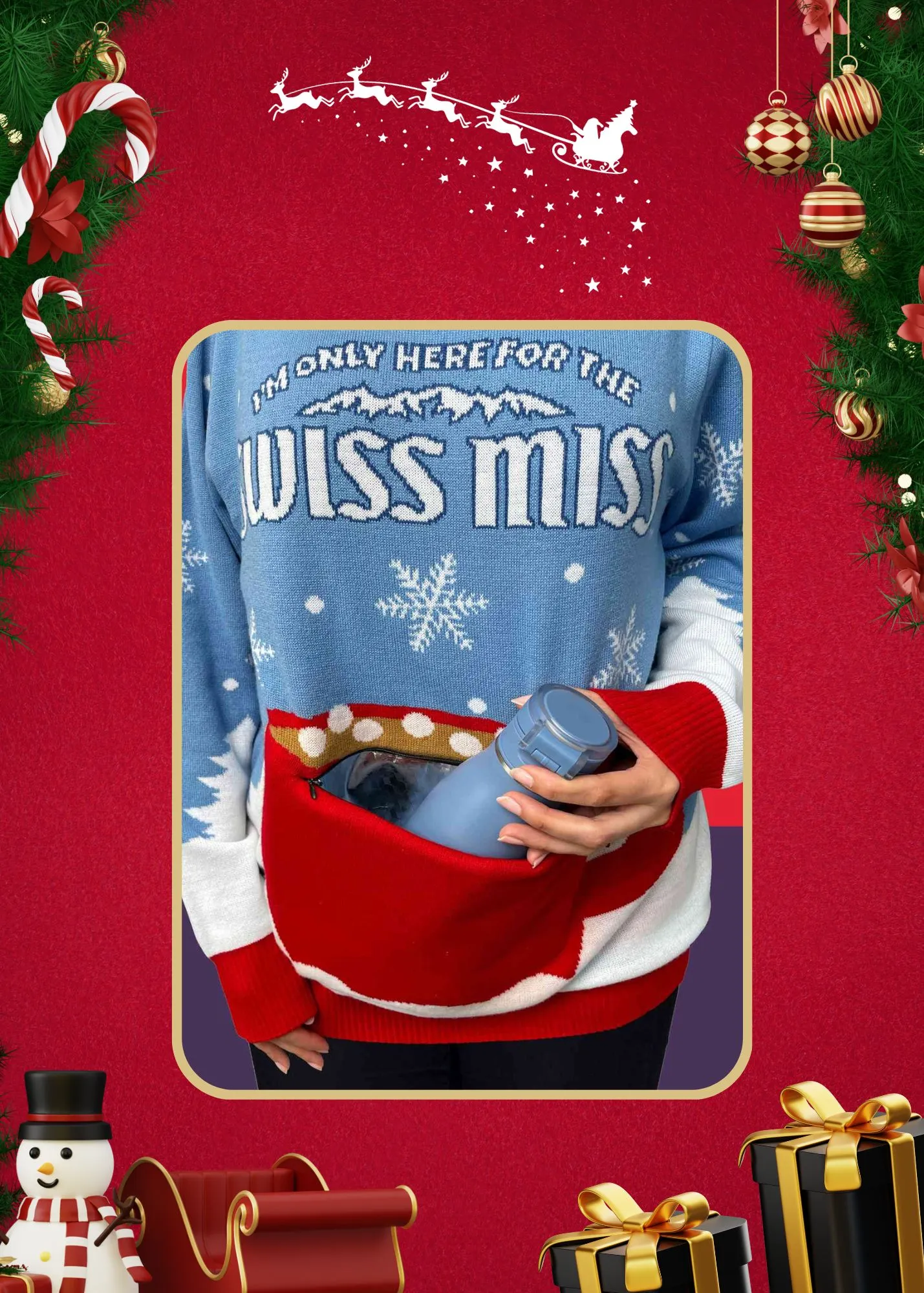 Attach functional pockets to your sweater, allowing you to carry small holiday surprises, candy canes, or even mistletoe that you can share with others.
Homemade Ugly Sweater Dress: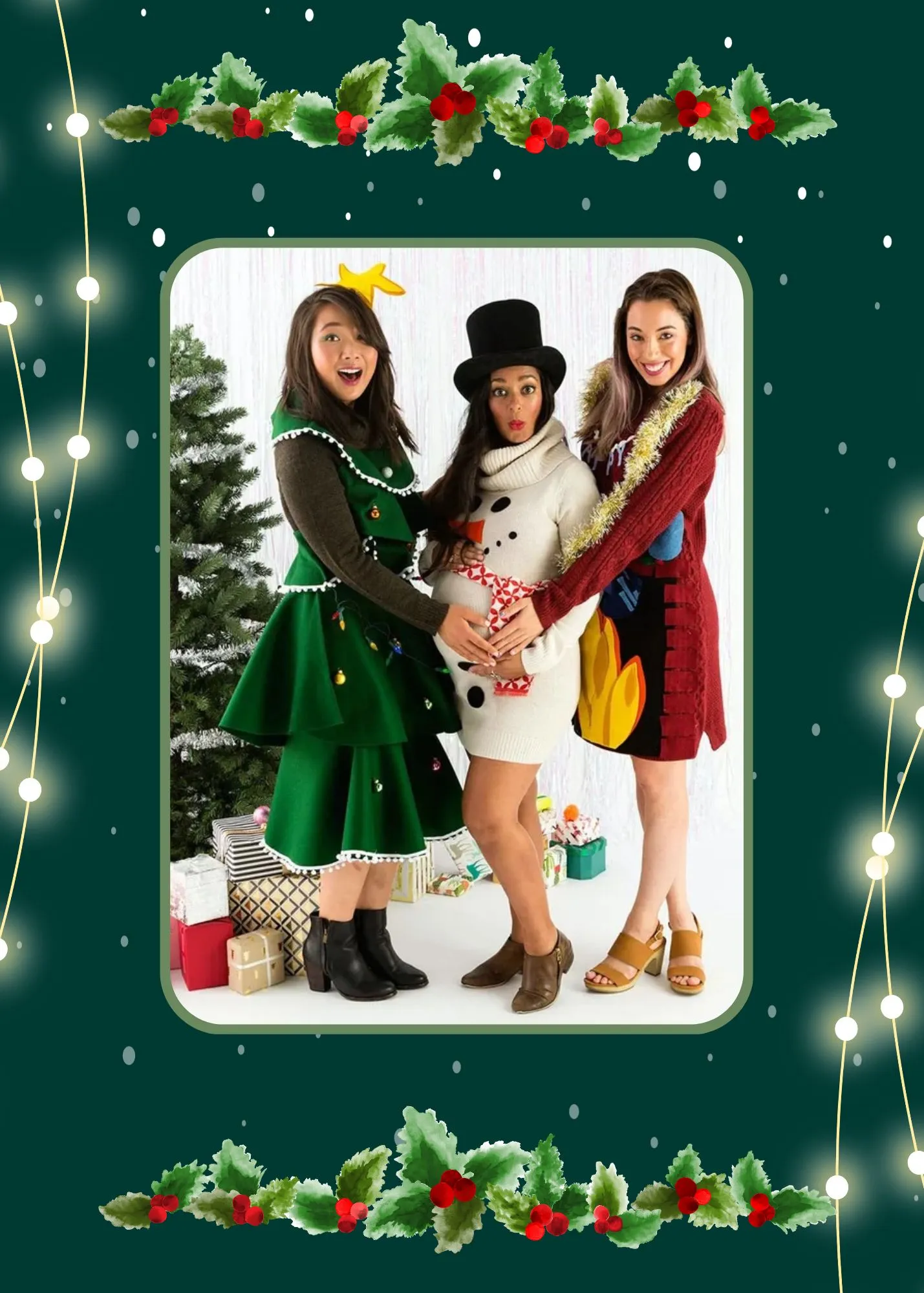 For a fashionable twist, transform an oversized sweater into a dress. Decorate it with oversized bows, ribbons, and other festive details to create a memorable holiday outfit.
DIY Ugly Christmas Onesie: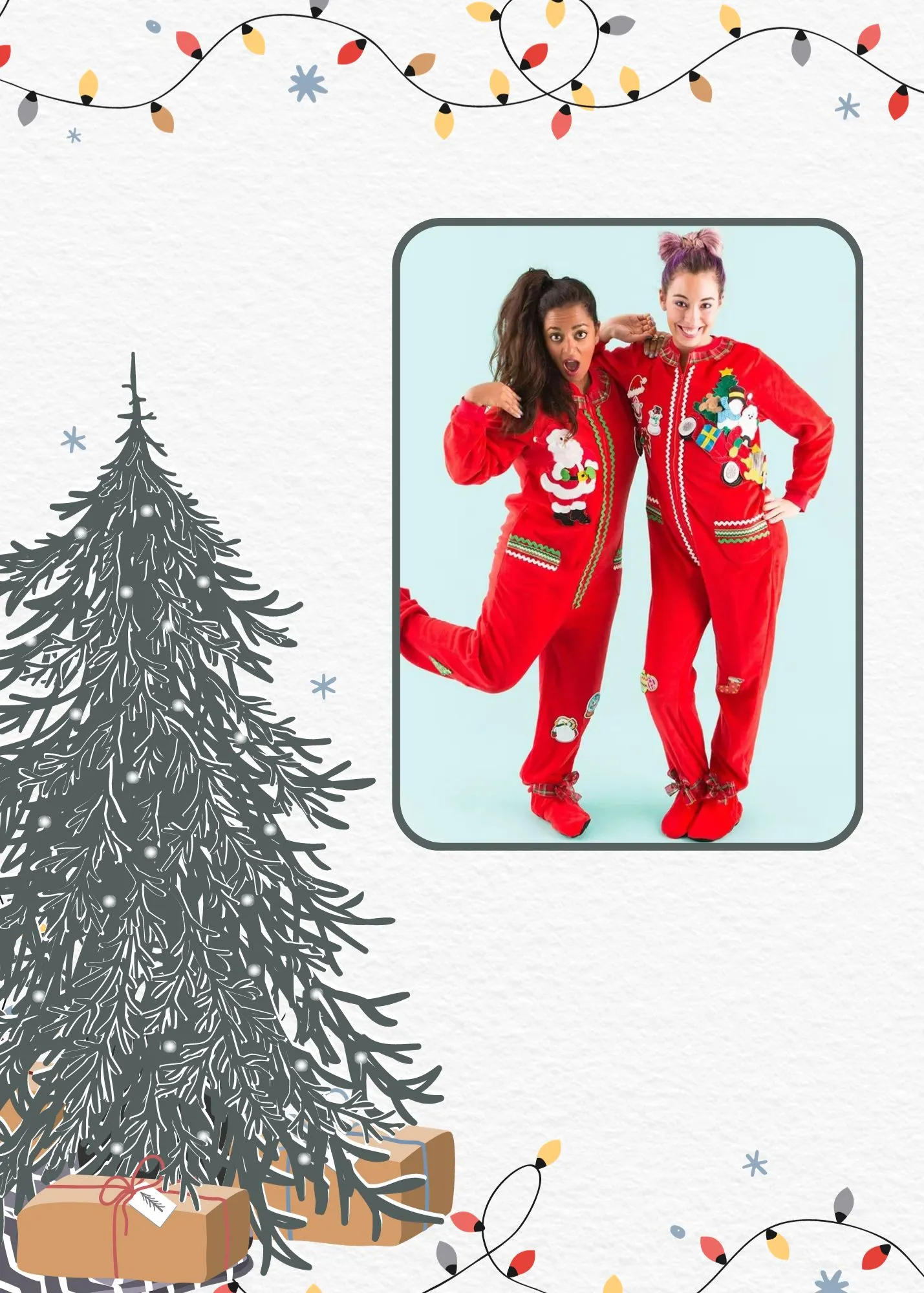 Create an all-in-one ugly Christmas ensemble by decorating a onesie with playful holiday elements. Don't forget to include matching booties or socks for the full effect.
Ugly Christmas Sweater Accessories: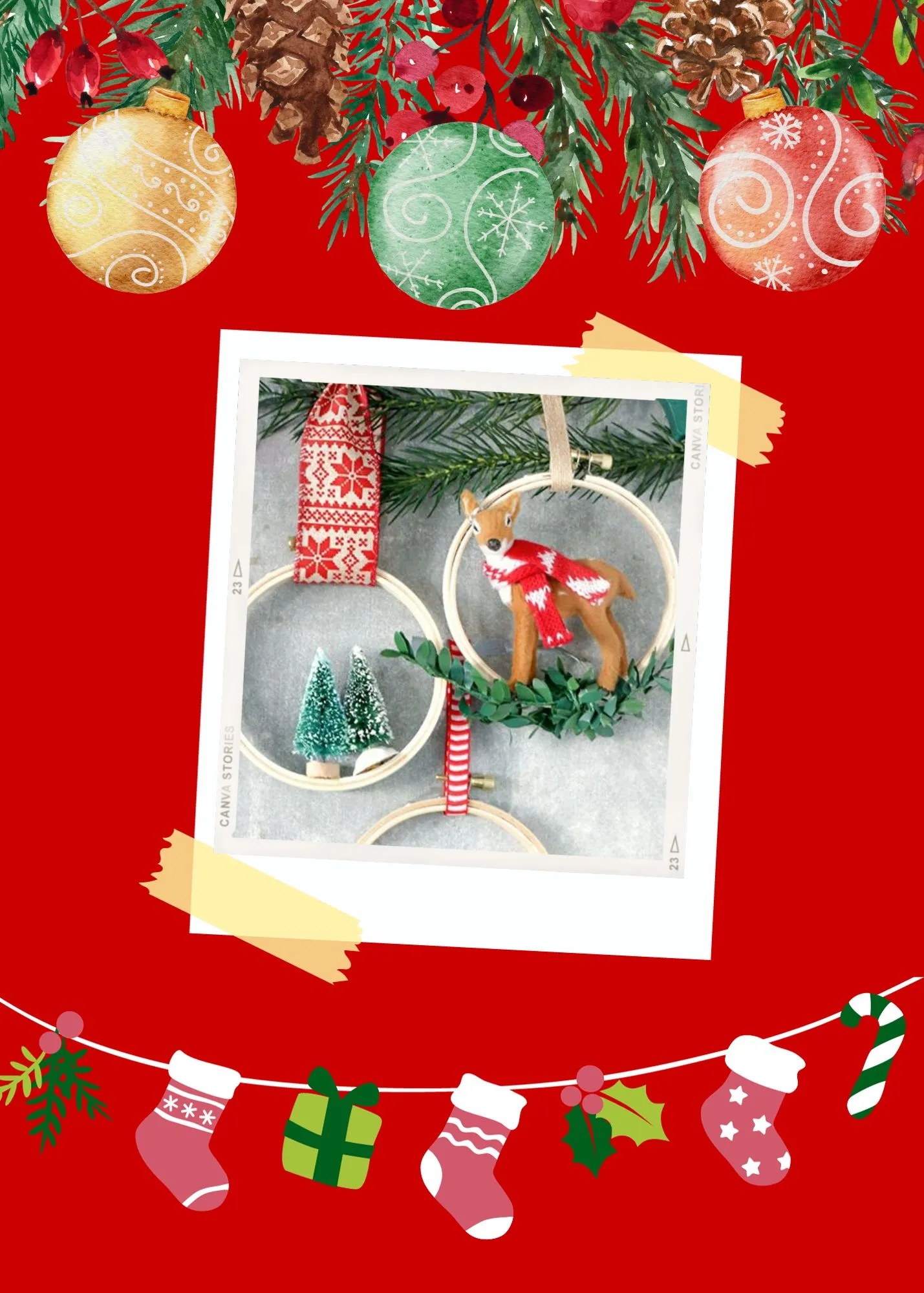 If you're not up for making an entire sweater, craft smaller accessories like an ugly Christmas hat, scarf, or mittens to wear with your regular winter attire.
Pet Ugly Christmas Sweater: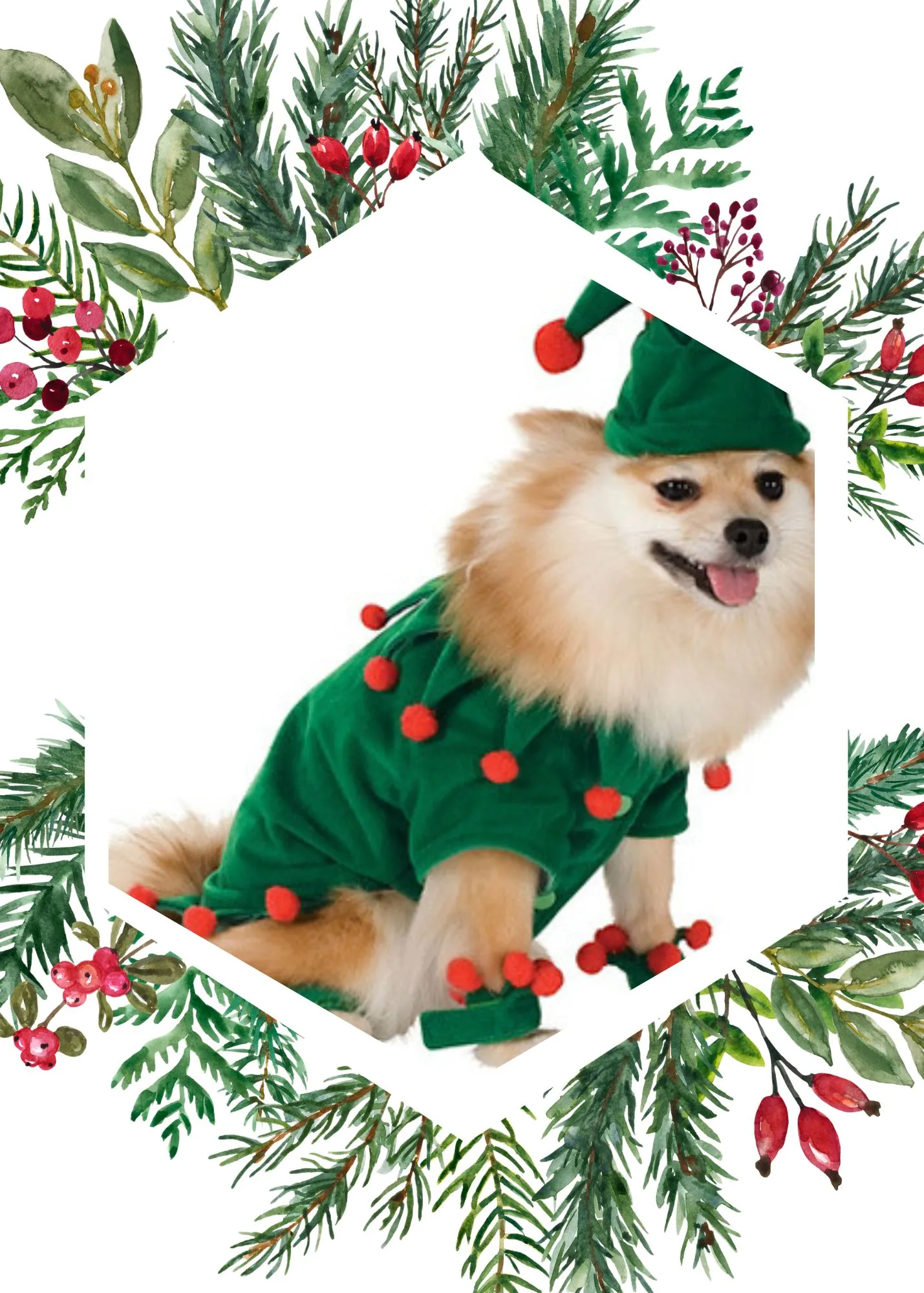 Extend the holiday cheer to your furry friend by making a mini ugly Christmas sweater for your pet. Use small decorations and pet-friendly materials to create a festive look for your four-legged companion.
Ugly Sweater Apron: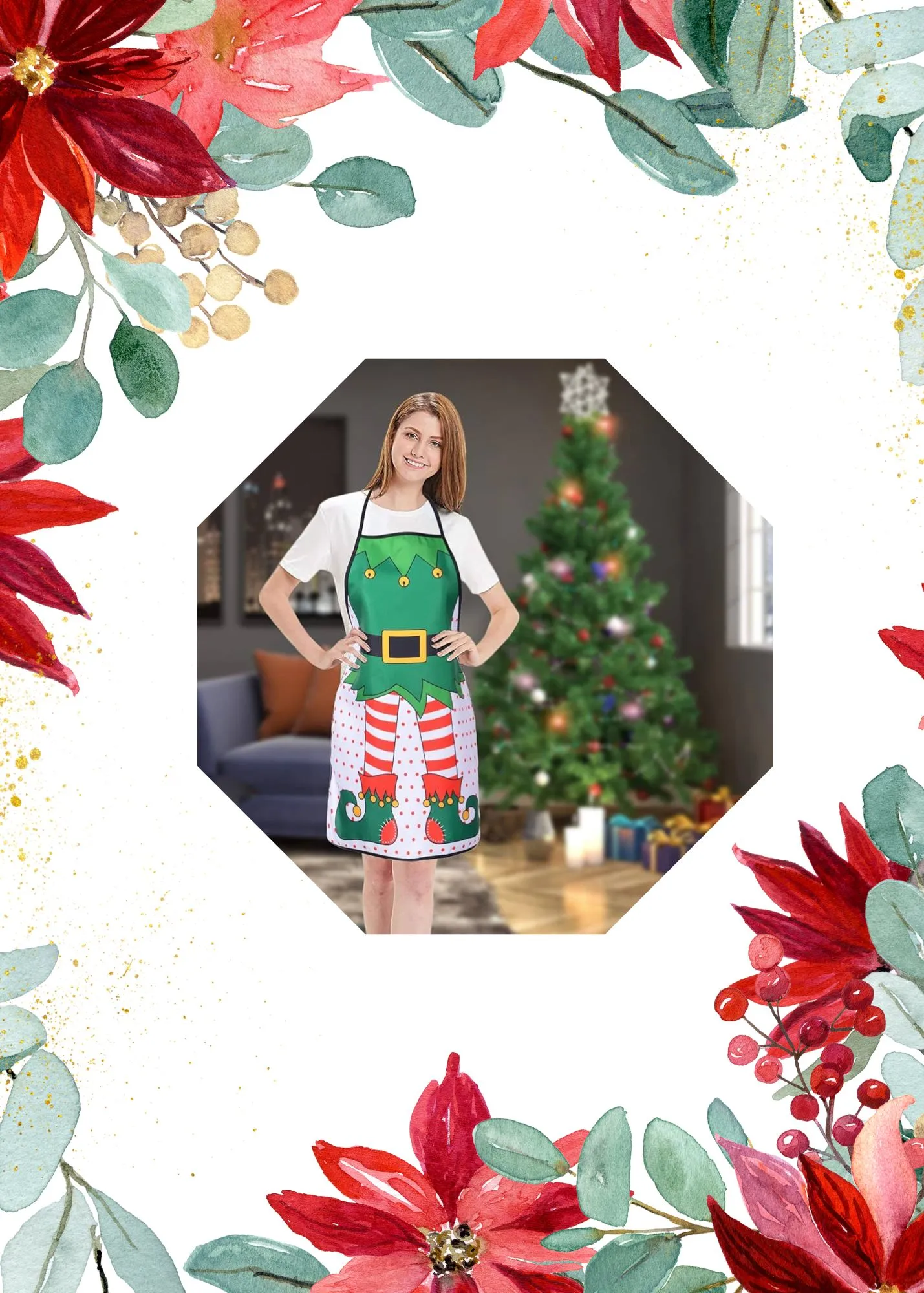 If you enjoy baking or hosting holiday meals, create an ugly sweater apron. Attach oversized pockets and holiday-themed embellishments to make cooking and entertaining even more festive.
DIY Ugly Christmas Blanket: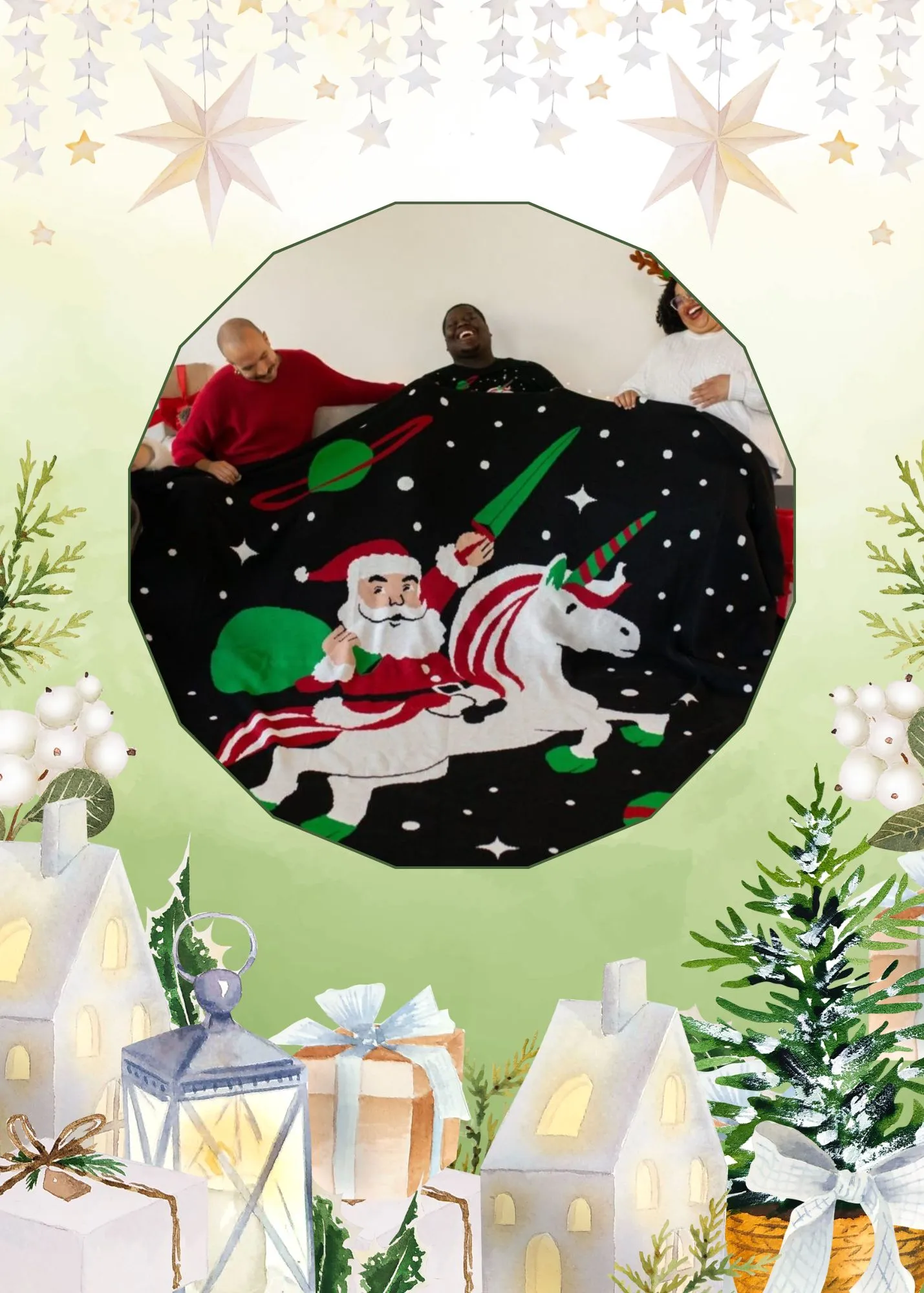 Turn a cozy blanket into an ugly Christmas masterpiece by decorating it with felt appliques, patches, and fabric paint. It's perfect for snuggling up by the fire during the holiday season.
Ugly Christmas Sweater Vest: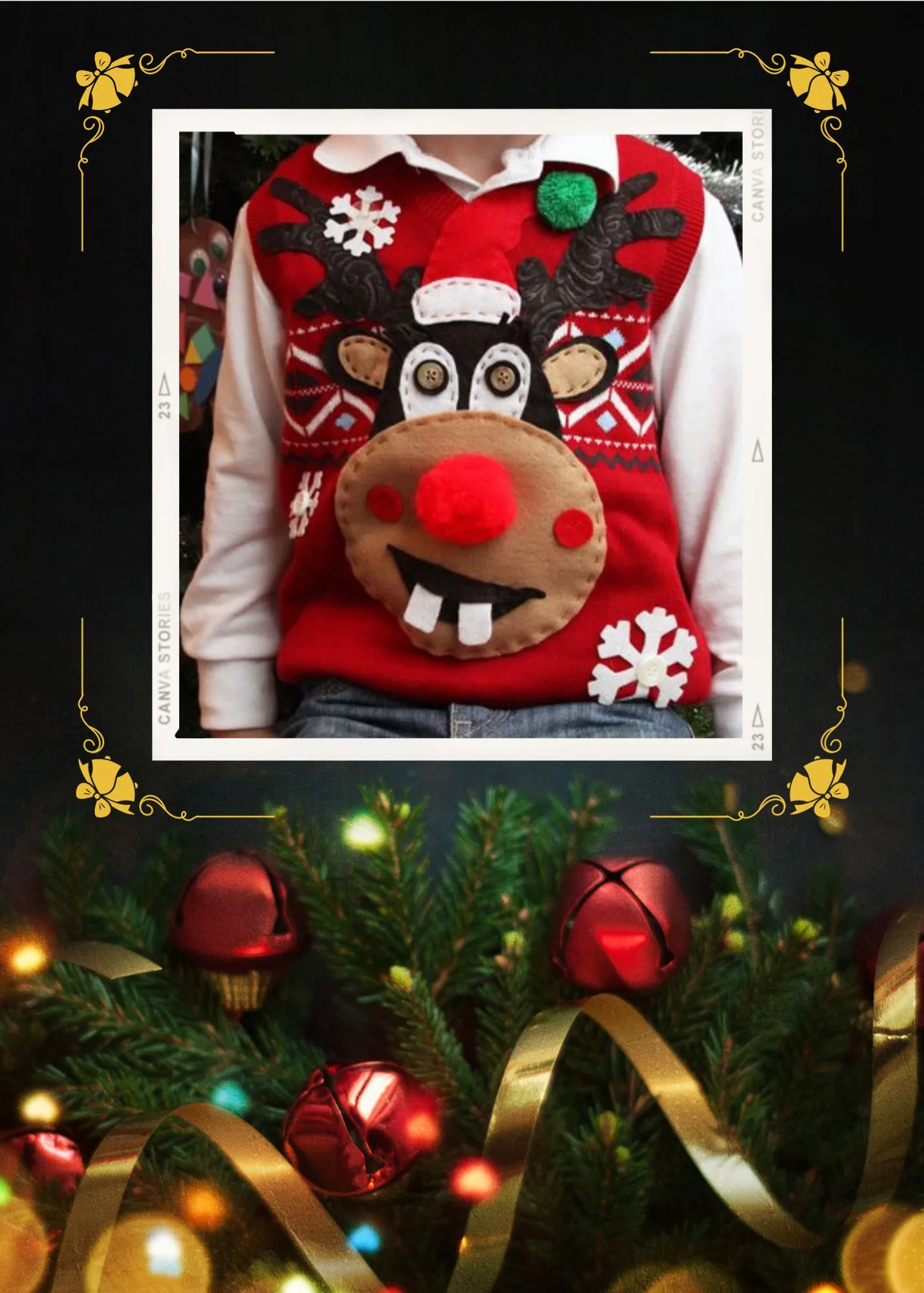 For a slightly less bulky option, opt for a vest instead of a full sweater. Decorate it with a mix of holiday motifs and trinkets for a unique and lighter approach.
Ugly Christmas Poncho: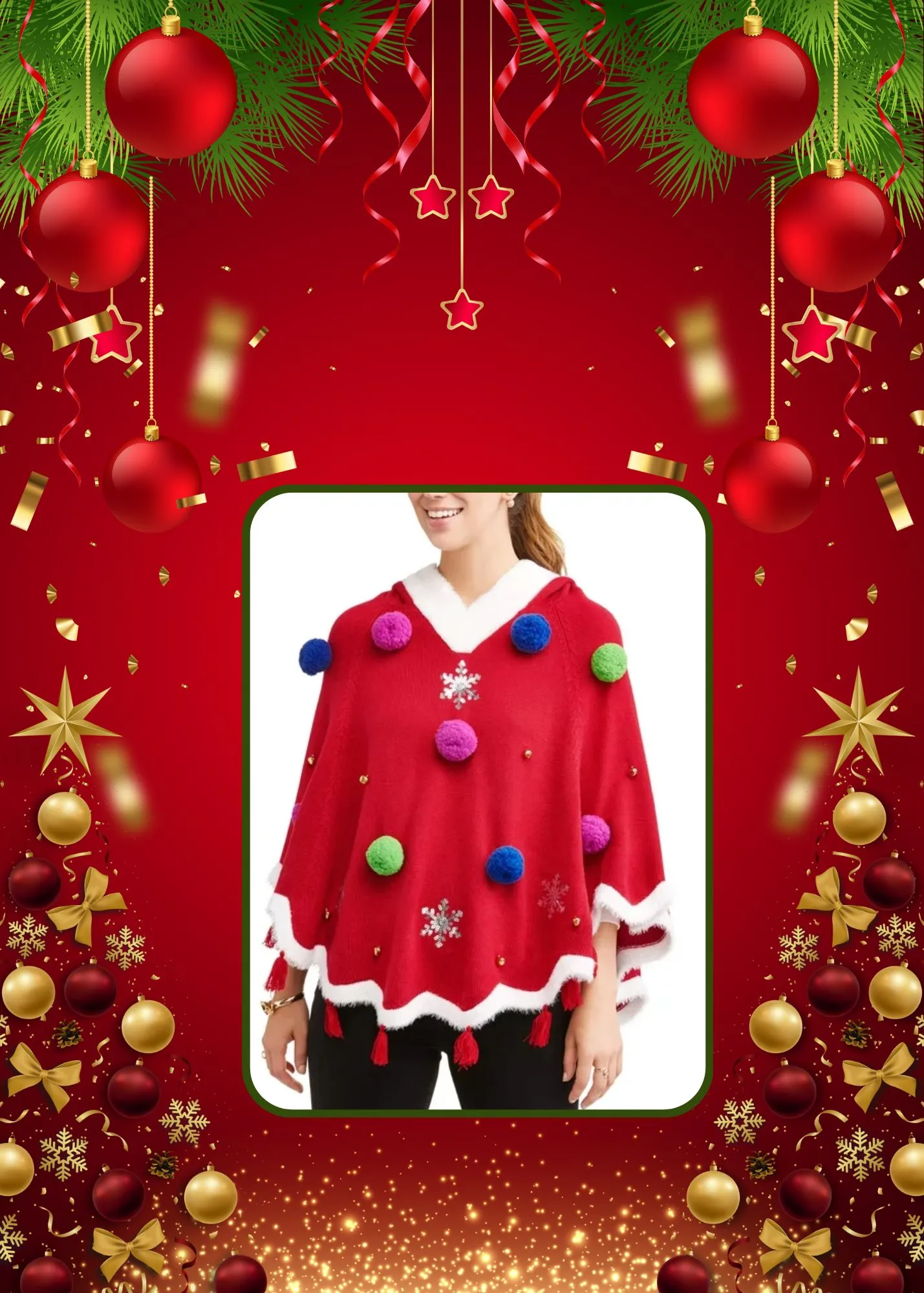 Transform a plain poncho into a festive holiday garment by attaching holiday-themed decorations and accessories. Ponchos offer a relaxed and flowy alternative to traditional sweaters.
Ugly Christmas Sweater Onesie for Babies: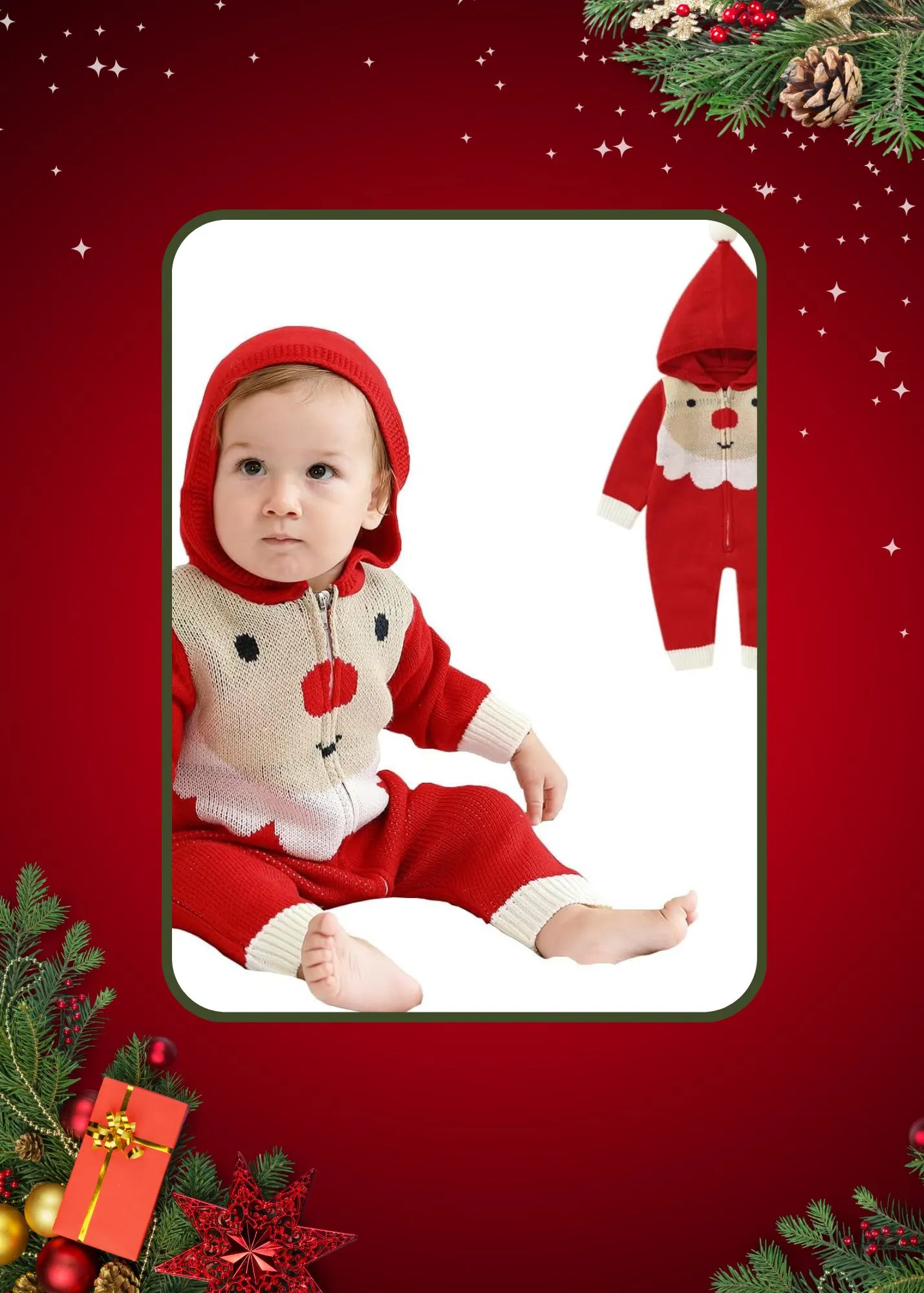 Get your little one in on the fun by crafting a cute and pint-sized ugly Christmas sweater onesie. Use baby-friendly decorations and materials to ensure comfort and safety.
These creative DIY ugly Christmas sweater ideas offer a wide range of festive options to suit your crafting skills and personal style, ensuring that you'll have the perfect conversation starter for any holiday event.
Read More: Create a t-shirt with Cricut Maker
ADDITIONAL TIPS FOR AN EASY DIY UGLY CHRISTMAS SWEATER
Conclusion
In conclusion, creating your own ugly Christmas sweater is not only a festive and creative endeavor but also a delightful way to celebrate the holiday season with a touch of humor and personal flair. With a plain sweater as your canvas and a collection of decorations, you can craft a one-of-a-kind masterpiece that captures the spirit of the holidays in a uniquely "ugly" way.
Whether you opt for classic themes or let your imagination run wild with innovative ideas, the key is to enjoy the process and wear your creation proudly to share in the joy and laughter of the season. So, gather your supplies, unleash your creativity, and have a wonderful time making and wearing your DIY ugly Christmas sweater!
5 Easy DIY Ugly Christmas Sweaters (6 styles)